Out of courtesy to the non-Swedish speaking persons we meet and interview, all of our international "MankerBeer Meets" are published in English.
____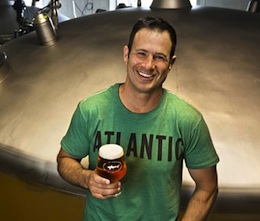 Few are the beer interested swedes that have missed this week's big thing – Sam Calagione of Dogfish Head Brewery will come to Sweden and the beer bar Oliver Twist for a beer dinner, followed by a friday brew session with Nynäshamns Ångbryggeri. The brew session will result in the next chapter of Dogfish Head's Ancient Ales series where Sam together with Dr. Patrick McGovern tries to "rebrew" ancient recepies based on the findings and residues from old kegs and bottes. The beer that will be recreated at Nynäs has been the project of Lasse Ericsson, brewer at Nynäshamns Ångbryggeri and Dr. Pat and is taken from a 3,5000 year old Danish drinking vessel made of birch bark and will be a 10% ABV strong traditional ale named Kvasir. Except for birch bark the wheat wine-style ale will host lingonberries, cranberries, myrica gale, meadow sweet, honey and yarrow – all traditional Scandinavian ingredients.
Already back in 2005/2006 a meeting between Sam and Jörgen 'Jugge' Hasselqvist from Oliver Twist resulted in a beer, back then Sam needed cloudberries for the Arctic Cloudberry Imperial Wheat, but this time around Jugge has merely functioned as the matchmaker – which all Swedish beer fans appreciate and are thankfull for.
How can one not find both the beer dinner and brew session proof that Sweden is establishing itself as an internationnal beer country? We at MankerBeer.com really felt need to check with Sam what is happening over in Delaware since we last visisted and had a beer with Sam in 2011 and managed to catch Sam between all his trips for a quick interview.
MB: The new warehouse is finally on the go, how much does it mean for you and DFH to finally be able to make this expansion?.
SC: It's critical to our continued growth. Thanks to the grassroots consumer demand dogfish has enjoyed double digit sales growth for 14 straight years but we are out of brewing capacity. Once the new brewhouse an bottling line come on line late Summer we will be able to grow from 200,000 bbls to about 600,000 some day in the future.
MB: With both the Ancient Ales series, but also with other DFH beers you have dared to let the brewers experiment a lot with different ingredients and beer styles; but have you had any plans to brew more traditional European beer styles like gose, steinbeer or maybe a grätzer etc?
SC: We did a smoked-hop goze brewed with Atlantic Ocean water. Also a Sahti, we will continue looking backwards for creative inspiration at the same time we look forwards.
MB: Do you see any trends in what people drink; have we moved from lager beers to hoppier ales and what would the current trend be?
SC: Hop-forward beers will grow for years to come. So will wood aged beers and adventurous beers that have culinary ingredients. Food-centric beers as we like to call them.
MB: Do people dare to try what is "different"?
SC: More and more everyday and the Internet is the catalyst that lets them find, share, and celebrate them.

MB:  You are coming to Stockholm of all places for the Beer Dinner at Oliver Twist together with Pat McGovern. How come the Swedish beer lovers finally will get a chance to try some DFH?
SC:  I have heard greatthings about the Swedish beer and I have know and respected Jorgen for years.
MB:  So what can we expect at the Beer Dinner; what beers will blow our minds?
SC: Everyone has different favorites but Midas Touch is generally the most beloved. The recipe is base on evidence found in a 2700 year old tomb in Turkey believed to belong to King Midas. It has white muscat grapes , wild flower honey and saffron in it.

MB: When we visited the brewery in November 2011, we sat down with you and asked what the perfect cheese pairing would be for the DFH 120 Minute IPA (a strong blue cheese was suggested, and offered), which worked very well. What food and beer pairing would you say is your own favorite?
SC: The easiest winner is a high cocoa content chocolate Barr and a dark toasty stout like our 18 percent abv World Wide Stout.
We greatly appreciate that Sam took some time off to answer our questions and all of you beer geeks out there – be sure to be at Oliver Twist on Thursday. The beer dinner is sold out, but Sam and Pat will answer questions and hang around after the dinner. So see you there!