If you're 555, i'm 666
[what's it like to be a heretic?]
I'm not saying that former homebrewer celebrity Jamil Zainasheff is a fan of Slipknot or even know The Heretic Anthem but he sure as hell has the same carefully careless attitute to things. Jamil, with a background as host of The Brewing Network internet radio show "The Jamil Show" and co-writer and writer of books about beer decided that after homebrewing since 1999 ut was now time to open his own place.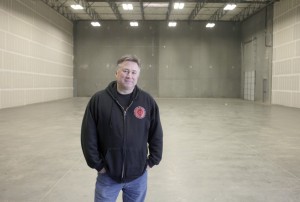 Said and done, Heretic Brewing Company opened 2011 in San Fransisco and the well respected site Serious Eats listed the brewery as one of the three up-and-coming Cali' breweries that you should keep your eyes on. In the same article they give a quote from Jamil which perfectly explains his credo "So what's their secret? "Do it right or don't do it," said Zainasheff, "Dump it if it is wrong." If that's heresy, tie me to a stake." To be honest I had never heard of Heretic Brewing Co. before I read the article in Serious Eats, but while reading up on more about Jamil and the brewery I felt that the aura of caring more about beer appreciating those with a shared passion than to please everybody spoke to me. On their webpage you can follow Jamil and his thought on geekyness, how passionate beer drinkers are shaping the craft beer scene by demanding more of their local breweries (Swedes, time to take action?) and how it really is to work at a brewery – great reads which I recommend you to read through.
Well, that was Jamil in my words, time to let Jamil give you his own.
MankerBeer (MB): The first time I heard about you and Heretic Brewing was in an article highlighting the three most interesting new breweries in California. Jamil, who are you and what did you do before deciding to start up your brewery?
Jamil Zainasheff (JZ): I'm just another person that has made craft beer my life. It all started when my wife gave me a Mr Beer kit for Christmas of 1999. From that start I turned brewing into a full time passion. Now it is a full time career. Before this I was managing software development for some well know software companies.
MB: You must feel liberated to be able to do whatever you feel like, pushing the perception of what a beer can taste and be. How will this translate into the beers that will be brewed and for the future of the brewery?
JZ: It is nice to be the one that writes the checks. Even if everyone thinks you're about to do something stupid, you are still free to do it. I'm not sure what will happen going forward. When it comes to technology, the theory goes that amazing new inventions in the future are always unpredictable. If it is something we could predict, then it wouldn't be so amazing. I think the same holds true for beer. We see what might happen in the next six months or maybe a year, but five years from now is a true mystery. For now I am content to play around with barrel aged sours while the rest of the crew keeps our mainstream products bubbling along.
MB: Are there any lessons learned that you would like to share with all the young home brewers who dream of one day opening up their own brewery? What obstacles have you yourself experienced so far?
JZ: People ask all the time if they should go to school before opening a brewery. Yes, business school. It wouldn't hurt to get some sales and marketing experience as well. Getting enough money can be tough. Brewing beer, that is the easy part.
MB: Looking at the list of beers on your homepage I find all kinds of beer styles, rather than going for a west coast, Belgian or any other style of beers. Are there any beer styles or breweries that you prefer or admire and which have inspired Heretic?
JZ: Russian River is probably my north star, the one that inspires me the most. But there are so many great breweries and great beers out there that I get inspired every time I stop by some place new. I think in the end, I just want to make great beer. Sometimes people try to be too interesting and unusual, at the cost of having a nice drinkable pint. I don't really care about brewing specific styles, but rather different beers that are creative and highly drinkable.
MB: The Craft Beer segment gains new market shares every month, but it is still a long way up to the fizzy yellow water drinking segment – what is required for craft beer to take that next big step and establish itself as the normal instead of something "premium and fancy".
JZ: I think many of the new breweries are starting out with quality beer. And when new consumers come across them they have a great experience. That is going to keep building momentum for the industry, as new people come to craft beer and find it exceptional. Exceptional will become the standard, the expected.
MB: Who is the contemporary average craft beer drinker? Do beer drinkers appreciate great craftsmanship or are trends and nerdiness affecting what people drink and think?
JZ: It is the Millennial generation that is driving the rapid expansion of craft beer. Some certainly will jump on and off seeing it as trendy, but I believe that generation of people is honestly about quality of life and experience. Making the most of the time we have. Drinking craft beer is just such a rich experience. It is a rich experience not just of flavor, but a rich social experience. It is a great way to enjoy life and those around you. Seems like a great way to live life, not just a trendy one.
MB: In a February article in Beer Pulse you said that the distribution plan was to start filling up Cali, then possibly to open Washington and Oregon, maybe later on Colorado. Now half a year later, how well does it fit reality, have the local thirst for Heretic brews been higher than expected?
JZ: That plan is still on track, although expanding to other states is taking a little longer than anticipated as we keep expanding production to handle our local markets first.
MB: What are you looking forward to with GABF and how important is the festival for breweries and the American beer scene?
JZ: There is really only one thing I look forward to at any beer festival and that is people. Meeting up with old friends and making new friends that are as passionate about craft beer as I am. For me, that is the greatest part and the one that I keep returning for each year. I think as an event, GABF has taken on a status that has become legend in the beer world.
MB: Are there anything all GABF-debutants reallly shouldn't miss and/or think about at GABF?
JZ: Try to mix with other people. If you find yourself standing around on your own, or even with a group of friends, make a point of talking to a stranger. I can guarantee you, they are a beer lover too. Smile, say hello and comment on some beer you liked or didn't like. If you do that a few times, you'll find yourself with a group of new friends pretty quickly. Some people come back to GABF every year to meet up with dear friends that they made there at GABF.
MB: For my second to last question I'll bring back an old favorite – what would you rather do, happily down a sixer of Coors or listen to Justin Bieber for a full hour?
JZ: I think Coors and others, like Budweiser for example, are well made beers. Nothing wrong with them, but they are more of an alcohol delivery system than they are a full flavored experience of life. Regardless, I probably wouldn't drink a sixer of anything in one sitting, unless it is a good session beer. So give me the Biebs. I am really good about being able to ignore what is going on around me when I need to.
MB: What cool Heretic brews will be poured at the festival?
JZ: We will have our core brands. Evil Twin, Evil Cousin, Gramarye, and Shallow Grave. We will be introducing some new beer as well, such as an Imperial Stout. Possibly some new barrel aged beers. And maybe, just maybe, we will have one keg of Miscreant, our barrel aged sour. Two years in the making, 16 months of that in Cabernet barrels, it is a thing of beauty right now. We've been releasing it a little here and there over the last 6 months. I tasted it yesterday, and now I consider it a perfect, flawless beer. I am extremely proud of that effort. Too bad it will take another 2 years to make more.
Thank you Jamil. I hope all you readers appreciated this as much as we did, and we hope to give you a special from the brewery later this year!