Detta är en historia som jag inte tyckte att någon kunde gå miste om. Min vän Karl Flöhr och hans kamrater Christian Petersson och Sven Lindström åkte till Berlin och råkade på något märkligt vänster få till en privat guidad tur av självaste Greg Koch på Stones nya faciliteter i Berlin.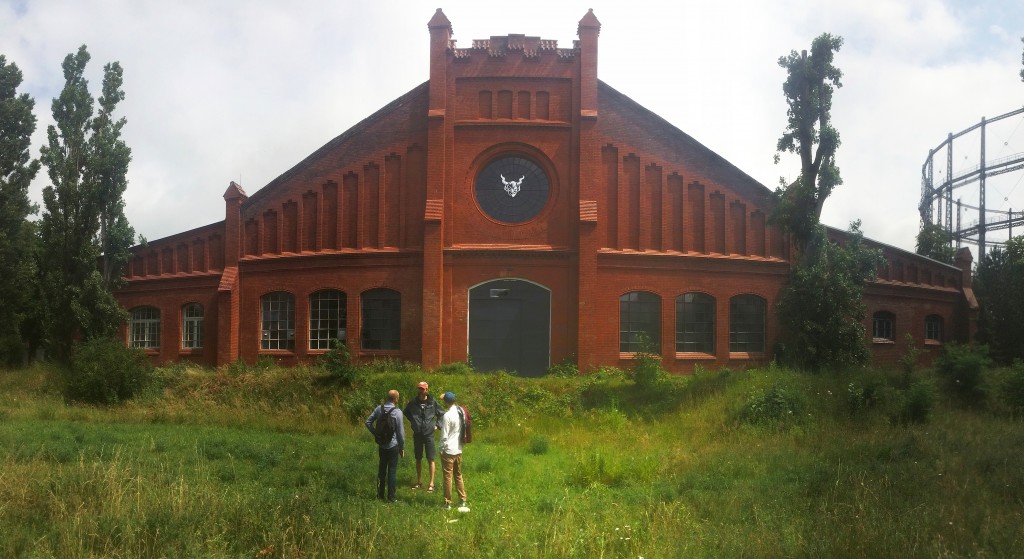 Här kommer deras berättelse:
Under vår resa till Berlin hade vi hyrt en lägenhet på en parallellgata till Schönhauser Allee. Efter att ha käkat en ganska ointressant middag var valet därför enkelt att dra sig ner till den belgiska baren Herman vid Senefelderplatz. Stället har ett bra utbud av belgiska öl främst på flaska och vi blir stående i baren. Vi står i baren och snackar medan flaskor från 3 Fonteinen, Boon med flera beställs in. En trevlig amerikan med rejäl skäggväxt börjar snacka med oss och när han hör att vi är svenskar börjar samtalet handla om en film med en spion som har ett datachip i nacken. Vi går alla fyra bet på vilken film det handlar om.
Inte helt oväntat går samtalet över på öl. Vi får frågan "Do you work in the beer industry?" och får erkänna oss som bara "beer geeks".
Frågan bollas tillbaka och svaret att det är Greg Koch från Stone Brewing var inte helt vad jag väntat mig. När pinsamheten över att inte känt igenom honom lagt sig går samtalet självklart över på deras Berlinsatsning och en fråga om vi kan få komma ut på ett besök. Det ska nog inte vara några problem svarar Greg och efter några mail fram och tillbaka dagarna som följer har vi ett möte inbokat.
Efter lunch på måndagen sätter vi oss på tunnelbanans linje U7 och beger oss ut till Mariendorf. Vi promenerar de sista 15 minuterna enligt den vägbeskrivning vi fått från Greg och når ett hus som mest ser ut som ett flerfamiljshus från sekelskiftet. Vid den anonyma grinden sitter en ringklocka märkt Stone Brewing. Vi ringer på och grinden öppnas. På husets baksida vid en bakdörr blir vi mottagna och visade upp på ett tillfälligt kontor belamrat med ritningar, skisser och tidsplaner. Vi beger oss direkt ut för att titta på det oväntat stora område som ska bli bryggeri, restaurang och butik.
Vi börjar promenera genom området som numera tillhör Stone vars tidigare ägare var Berlins gasbolag. Den första byggnaden vi kommer till är ännu inte i helt perfekt skick men Greg berättar att de jobbar förfullt med att fixa till främst taket som hade uppenbara brister.
Den 2 000 kvadremeter stora byggnaden ska sen innehålla jästankar och
tapp- och packlina. Jag frågar Greg hur mottagandet varit i det ganska ölkonservativa Tyskland och hans svar blir att de som gillar det de gillar det och de som inte gillar det bryr sig inte. Stone har även välkomnats av de lokala myndigheterna i området då det gamla industriområdet stått övergivet en tid och började förfalla.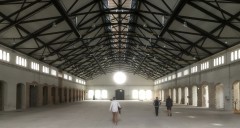 Vi går vidare ner mot vad som är områdets huvudbyggnad. Byggnaden är på 4 000 kvadratmeter. När dörrarna öppnas till den just nu helt tomma lokalen slås man av dess enorma storlek. Vi kommer in från vad som kommer bli bakdörren där själva bryggverket sen kommer placeras.
Kapaciteten i Berlin kommer vara på minst 83 hektoliter vilket är ungefär en tredjedel av kapaciteten på deras huvudbryggeri i Escondido. Hela lokalen kommer sen skärmas av ungefär på mitten med en glasvägg där den andra halvan blir restaurang. Tanken med restaurangen är att basera den på lokalproducerad, ekologisk mat.
När det kommer till ölen är tanken att börja med att brygga storsäljarna så som Stone IPA, Go to IPA och Ruination. Greg ser inga större risker med att starta upp en ny site. De har redan gjort det i USA och efter vissa mindre inkörsproblem har de fått ölen att vara densamma oavsett var den bryggs något som också är målet för Berlinbryggeriet. Han medger trots detta att vissa mindre skillnader mellan de amerikanska versionerna och det europeiska kan uppkomma men att det kommer vara i stort sett samma öl bara betydligt mycket färskare. Att leverera färsk öl till Europa är så klart en viktig del av etableringen i Berlin men ju mer vi visas runt och Greg förklarar om planerna för området desto mer förstår man att tanken på att bli en del av Berlins öletablisemang och lokalsamhället också är väldigt viktigt för honom.
Vi går ut genom det som kommer bli lokalens framsida, Greg beskriver entusiastiskt att utomhusområdet framför byggnaden ska byggas upp som en spännande trädgård med mycket t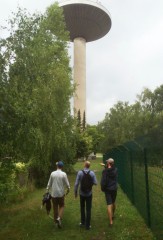 räd och olika platser att sitta på under varma dagar. Det märks att han har en tydlig bild i huvudet om hur han vill ha det.
Vi rundar huset där gatan som ska leda in till baren och restaurangen ligger. Planen är att göra den bilfri och även här plantera träd. Greg uttrycker det som att här kommer man ha beställt en öl och sen gå ut för att ringa sina polare med frågan "var fan är ni?" vilket säger lite om storleken på det planerade området.
När vi börjar förstå projektet storlek går det heller inte att undvika frågan om de inte är oroliga för att saker ska gå fel. Några sömnlösa nätter erkänner Greg att det blivit men att saker och ting har funkat för Stone hittills så varför skulle inte det här? När de startade upp i Escondido trodde de att de var alldeles för sent ute för att kunna slås sig in på craft beer-marknanden och samma känsla hade de nu kring Europa. Jag kommenterar med att om det varit mitt projekt hade jag varit livrädd varpå Sven påtalar att det är därför det är Gregs projekt och inte mitt. Han skrattar och pratar lite om sin bakgrund inom rockvärlden i Los Angeles. En värld som lärt honom att köra på med vad man tror på. Det har funkat bra så här långt.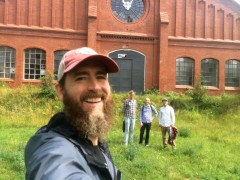 Vi kan inte låta bli att undra hur allt det här kommer hinna bli klart i tid, målet är att öppna slutet på mars 2016. Oron kring förseningar verkar inte delas av den som planerar alltihop. Vi hoppas på att kunna åka tillbaka nästa sommar och dricka en purfärsk Go To IPA i den spektakulära miljö Greg målat upp för oss.
Vi tackar Greg för vänligheten och att han tog sig tid när vi skiljs åt vid grinden till det tillfälliga kontoret. Det är inte utan vi är väldig imponerade av området och de storslagna planerna och vi hoppas verkligen att det blir lika häftigt som upphovsmännen är övertygade om.
Under helgen kom vi även på filmen. Den heter Headhunters och är norsk.
Vi på MankerBeer tackar vänligast för att ni valde att dela med er av detta!