Okay, it is once again time to write in English, this time due to the nature of today's post. It is part of our aim at Manker Beer, to offer you more of the best US craft beer related news, beer etc.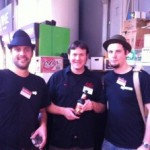 During the first week at Stockholm Beer and Whisky Festival, Flying Dog's own brewmaster dog stopped by to pour some beer, talk to his fans and to lead two master classes (he only lead two out of three). During his last master class we got the opportunity to set up our camera gear to record the whole classs. Unfortunately, the camera slipped and as you will see the camera has 'cut Matt on half'. It is still an hour of great beer talk so we hope you'll enjoy it.
We are looking forward to conducting an interview with Matt further on, as our scheduled one was postponed in the last minute. Real unforunate as Matt is a really great guy, but we didnt want to push it too much as he had been on the road for a while and could really do with some rest.  
Less writing, more talking. Thanks to Wicked Wine and to Matt for letting us film the master class – we hope you'll enjoy it – despite the camera angle.