Som ni nog redan vet så har Manker, M2 och Kristopher landat i USA för att besöka GABF. Som en i raden av alla inför reportage kommer det nu lite topp 5 listor från mig gällande bryggerier i USA.
De just nu mest udnerskattade bryggerierna, dvs de som i mina ögon, ofta glöms bort. Främst de man kanske väljer bort till fördel för annat. En otroligt svår lista att sätta ihop, men dessa är de 5 som jag anser bör ha högre status.
Maine Beer Co, Maine
Ett bryggeri som nog många missat främst på att deras etiketter är så in i hela hälsingland tråkiga. En helt vit etikett som det står nästan inget på. Se bilden intill, precis så tråkig är den. Men
innehållet, det slår en med häpnad. Otroligt vad bra det som finns inne i flaskan är! Jag har själv varit i Maine, men det är först på "hemmaplan" jag sprang på dem. Jag stod på Ölbutikken och skulle köpa något gott färskt som var bra till grillat och man hade precis fått in något nytt som inte stod på hyllan som hette Zoe. Det var första gången jag verkligen uppskattade en amber ale till fullo. Hade jag sett den på hyllan hade jag nog inte köpt den. Den informationen bjuder vi på!
Sämsta levande öl med över 10 ratings på Ratebeer: 3,4/5
Midnight sun Brewing Co, Alaska
Om du inte har hört talas om Midnight sun är inte konstigt, inte heller om du aldrig har fått tag på någon av deras öl. Det är nämligen ett bryggeri från Alaska. Men om du någonsin ser en öl därifrån, ta den! För det du kommer att få är en välbryggd och smakrik öl som inte spretar ut på något vis. En personlig favorit är Arctic Devil, som är ett otroligt bra barley wine som håller sig inom precis alla ramar över vad en barley wine ska ha och det är precis det man får, välbryggt och stiltypiskt.
Sämsta levande öl med över 10 ratings på Ratebeer: 3,08/5
Avery Brewing Co, Colorado
Varför är dessa med undrar du? De öl man kan få tag på i Sverige är ju ändå rätt bra. IPAn är OK, Out of Bounds är en vass standard stout, White Rascal är en bra veteöl. Maharaja är ju svinbra….när den är färsk i december/januari. Nej Avery är med på denna listan för det vi förmodligen aldrig kommer att få se i Sverige och inte för de ölen som får bryggeriet att gå runt ekonomiskt. Avery har ett fatlagringsprogram som ligger långt fram i tiden och ölen som kommer därifrån är otroligt bra. Uncle Jacobs är den bäst balanserade bourbonfatlagrade imperial stouten som finns på marknaden enligt mig. Många andra bryggerier nämner ofta Averys fatprogram som ett av de roligaste projekten i USA. Det säger en del!
Sämsta levande öl med över 10 ratings på Ratebeer: 3,03/5
Allagash Brewing Co, Maine.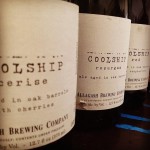 Allagash är ett belgoinspirerat bryggeri som är en gåta för mig att de får så lite cred. Ett ända bryggeri i världen utanför pajottenland har blivit inbjudna att ställa ut på Nacht van de grote Dorst, också känd som den ändra riktiga lambicfestivalen i världen. Jag var själv på plats i våras och provade deras 3 spontanjästa öl. Tävlar kanske inte med de absolut bästa från Cantillon, Drie Fonteinen och De Cam, men därefter kan de tampas med Tilquinn, Boon och Girardin. De är så otroligt sympatiska att de valt att inte kalla det för lambic även om hela deras tillverkning är exakt som den är i Belgien och enligt de aningen diffusa reglerna bör kunna kallas för just lambic. Man gör naturligtvis annat än just spontanjästa öl och man gör några väldigt bra klassiska belgiska öltyper som faktiskt till och med slår belgarna på fingrarna. Tänker främst på bryggeriets trippel som är otroligt bra.
Sämsta levande öl med över 10 ratings på Ratebeer: 3,28/5
Jolly Pumpking Artisan Ales, Michigan
Jolly Pumpkin är ett av de bryggerier som tidigt såg det som förmodligen kommer att ses som den moderna beskrivningen av "craft beer". Här snackar vi inte IPA eller DIPA, här pratar vi experimentella, fatlagrade, jäst experiment osv. i ölen. Värst med denna list ettan är ett bryggeri som jag personligen många gånger går förbi, ändå säger jag varje gång jag dricker en av deras öl att man måste dricka mer Jolly Pumpkin. Otroligt bra kvalitet och framförallt otroligt goda öl. Men vi bjuder er även på en varning för gushers!
Sämsta levande öl med över 10 ratings på Ratebeer: 3,05/5
Bubblare: Hair of the Dog, Oregon. Helt otroligt att jag listar dem som underskattade. Ett av mina absoluta favortibryggerier får ändå i mina ögon för lite cred för fantastisk öl.