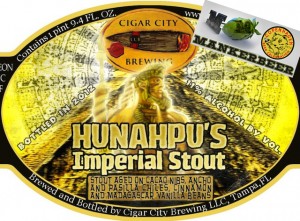 Finally, here it is. The first official MankerBeer article on the pre-Copenhagen Beer Celebration 2013 reporting. As both we and CBC announced earlier we at MankerBeer will report before, during and after the celebration – all for you to enjoy, hopefully whether you are to attend or not.
Right now we are working day and night to finish our pre-CBC interviews and articles and our hopes are to start the celebration by April 15. If you have any ideas for topics, people we should interview or questions for anyone involved in CBC – send us a comment, email or post something at our Facebook page. We'd love to hear from you!
One of the interviews that have been completed and which will be among the first to be published shortly is with Cigar City's brewmaster Wayne Wambles. This great fellow did not only give us an insight in the life at one of the top breweries in the US but he also shared a sneak peak of what they will pour for us beer freaks.
MB: What should beer fans really not miss at Copenhagen Beer Celebration?
WW: […] We are going to be pouring a three year vertical of Hunahpu's Imperial Stout […]
Yeah, that's right! Not only one Hunaphu will be found at CBC, but three! As the idea of CBC is to pour different beers throughout all three sessions we do not yet know when these rarities will be found – but if you are one of the "pinks" you can count yourself lucky. You will have access to all sessions and won't miss a thing, as long as it doesn't run out immediately, which dragon babies like this might do!
If you don't already know about this amazing beer Wayne describes it like this;
"Pours extremely dark in color with a brown head with notes of big chocolate and espresso, moderate notes of vanilla and cinnamon and a mild tinge of tobacco and chilis. The flavor opens with a big blast of chocolate and moderate espresso with elements of dark toffee and interjecting threads of vanilla with lingering hints of cinnamon and tobacco and chillies notes with a mild scoville heat in the finish."
-Head Brewer Wayne Wambles