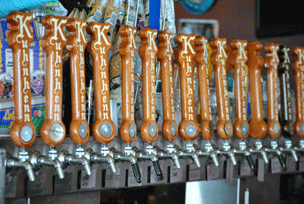 As I am finishing more and more interviews with the brewers coming to Copenhagen Beer Celebration I can't help but get more and more psyched. Not only are they thrilled to come to Copenhagen and meet all of us beer freaks and brewers from all parts of the world, but they are proud as hell of what they are able to bring. I already gave you some of what Cigar City will bring as well as the beer list Sören Eriksen of 8 Wired will bring – but when Bret Kuhnhenn told me what he was bringing I passed out of exitement.
As Bret point out in our interview his philosophic take on their products is "Beverages with distinct personalities. Meaning our beer next to each other will be noticeably different . Our Pale Ale doesn't taste like or even similar our India Pale Ale. Or our Porter doesn't taste like our Stout.".
When looking at the below list of some of the beers he is bringing we certainly can see and already taste the diversity. Just like with all the other breweries – all beers will not be server during all session. They will be separated so that some are for session 1, some for session 2 and the rest for session 3. To be sure to tast all of the below – think pink. Personally, I will make sure not to miss the "reserve" beers Raspberry Eisbock and Bourbon Barrel Fourth Dementia! Crazy beers or what would you say? You can find the full interview with Bret here on MankerBeer.com later this week! And beer lovers – there are 3 more Kuhnhenn beers coming which I didnt list below!
Rock on!
Fluffer IPA
DRIPA 12
Loonie Kuhnie
Braggot Mead
Raspberry Eisbock
Bourbon Barrel Fourth Dementia
+ 1
+ 2
+ 3
(changes in this line up may occur)