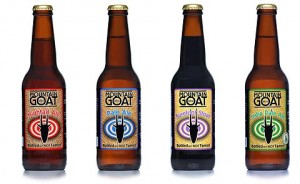 I just finished my article on and interview with Cam Hines, co-founder of Australian brewery Mountain Goat. Together with Sören Eriksen of 8 Wired Brewing Co. they will represent the Aussie/Kiwi flavor at Copenhagen Beer Celebration, less than a month away. You who have followed my preparations so far have been able to see how all of the articles and interviews have given small hints on what beers will be poured at the festival. At the moment me and second half of MankerBeer, M2, is creating the ultimate beer list for the celebration – perfect for all of you who wants a list which you can edit and tweak by yourself. You will also be handed a folder with all the beers, breweries and information at the entrance of the celebration, so do not mourn if you forget to print our list.
One of the beers they will bring and which Cam strongly suggest is the Abbey Collabey, a collaboration they brewed with fellow Aussie brewers from Matilda Bay and Moondog; "Basically there are two other breweries very close by to us in Melbourne. We thought why not get us all together and see what comes of it? It's been a lot of fun".
The beer is a Belgian dubbel with waffles & raisins and all you tickers, or Blaf'are as we say in Sweden can look forward to a beer which just recently was released and as with several of the beers Cam will bring few have tried them before.
Rapunzel
Lil Sister
Surefoot Stout
Bubble and Squeak
Abbey Collabbey
Fancy Pants
Yes, 6 beers, so there are three more – which I will add to the list by the time the interview is published in a couple of days!
Beer on, wax off!