Welcome to the first Pre-Copenhagen Beer Celebration MankerBeer Meets! For all you non-Swedes and/or those unfamiliar to us or this series, it is our interview series where we interview brewers from all over the world, give you a background on who they are and what they have done. The idea started when we first met Garrett Oliver of Brooklyn Brewery for the first time and has grown along with the beer festivals and trips we have been on and thanks to Mikkeller and the CBC staff we are now proud to be able to offer pre-CBC MankerBeer Meets-interviews with some of the fantastic brewers that will be there to pour beer and talk about beer, life and eternity. Our hope is that everyone, even you that will not be in Copenhagen for the celebration will find them interesting. We will report live and direct from the celebration and not only bring you pre-CBC interview but also the rundown on all the food, all the after party bars and a guide to Copenhagen – so come back and don't miss our Facebook page.
Let's start rockin'!
——-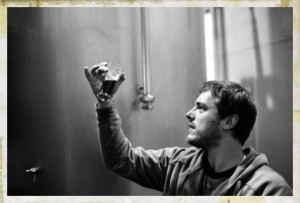 The celebration may be in Denmark but it is impossible to not argue that it has a certain international vibe to it, so we thought that we'd start off with a flavour of each. We managed to find an extract of both in Sören Eriksen, the Dane now living in Marlborough, New Zealand where he since 2008 runs 8 Wired Brewing Co.. You might wonder what 8 Wired means, is it a real word or expression? In New Zeeland "No 8 Wire", now called 4.0 mm wire, was the traditional New Zeeland equivalent of duct tape – it fixes everything. Every. Thing. Sören changed it from No 8 Wire to 8 Wired to symbolize the ability to survive without all the money, manpower or their own brewery – still they are more than an ordinary Kiwi lager brewery. Most of the beers are brewed at Renaissance Brewing in nearby Blenheim on the north east top of the South Island and together with Renaissance Brewing and Nøgne Ø the three released the recent collaboration Ø For Awesome.
You should really follow the brewery on Facebook to learn of all the exiting things that are going on. Enough about that, lets see what Sören himself has to say about 8 Wired, Copenhagen Beer Celebration and being a brewer in New Zeeland!
MB: Some might find it a little odd with a Dane living and brewing in New Zealand, before you first came in contact with craft beer at the Little Creatures brew pub – could you ever believe you would become a brewer and one day be pouring beer next to some of the world's top brewers?
SE: No, before I got into craft beer I had no interest in the stuff other than drinking it. Once I started homebrewing I was hooked though and the ambitions quickly became grand. In fact, I remember telling my wife, when I was bottling my very first batch, that she should take a picture: "This could turn into something big!":)
MB: What is your take on the Aussie and New Zealand beer scene at the moment? Is it still all about macro lager or how come we hear about relatively few breweries from down under? New Zealand is the perfect growing region for several types of hops so shouldn't it be about time with an increasing interest in beer?
SE: New Zealand and Australia may have been a little slow to take off but craft beer is in massive growth down here. New breweries are opening all the time and the quality of the beers is getting better and better. Most breweries do little exporting though, which is probably why they are not well known abroad. This too is changing though as the interest for down under beer is growing in the northern hemisphere. NZ hops are certainly popular as well, but i suppose it is easier to import the hops and brew with them up north, than shipping the finished beer from down here.
MB: How would you describe the typical Australian or New Zealand beer drinker?
SE: I would not even dare to generalize the typical drinker. You get everything down here, from the pale lager quaffer to the hipster beer geek. Much the same as in any other country i suppose.
MB: You brew everything from cider, smoked porter (The Big Smoke), Quads (Grand Cru) and extra hoppy ales (Hopwired and Super Conductor to mention two) – are they received differently in the US, Denmark or Australia or do people receive and think of them the same way in say Denmark as someone would do in New Zealand?
SE: I think the beer is received pretty similar. The main difference may be that some of these styles are something that people haven't seen much of down here, so it can sometimes be a bit of an eye opener. An American buying, say Hopwired IPA, is likely to have tried many big IPAs before and as such not necessarily impressed about the level of hoppiness, but more the difference between US and NZ hops.
MB: Have you kept your old plan to one day open your own brew pub or is the 8 Wired Brewing of today the perfect fit?
SE: At the moment we have no ambitions to start up our own brewery. We like the freedom that comes with contract brewing and have no desire to tie ourselves to a production brewery. I often say that I get to do much more actual brewing as a contract brewer than if I owned my own brewery. If I did I would be drowning in paperwork and have to hire staff to do all the fun work. A brewpub might be another story though, and a dream that pops up every now and then.
MB: Among your beers which one is your favorite? And which of one (if any) aren't you as proud of as you might have wished and would like to adjust or improve?
SE: It will sound like a cliché, but I don't have a favorite. It all depends on my mood. This week, the recycling bin would suggest that Superconductor is my favorite, last week it was Haywired. Rewired Brown ale is a beer that doesn't sell very well, but it was the first beer I brewed commercially and I really like it, so I keep brewing it. I suppose that could indicate a bit of favoritism?:) Without sounding too cocky I'm pretty happy with all the beers, although I do tweak them all continuously. The main improvements I'm looking for are of a technical matter to increase the shelf-life of the beer.
MB: One of the ideas with Copenhagen Beer Celebration is to offer brewers not only a chance to meet their fans and beer drinkers but also to interact with each other. How important is it with to network and learn from others at events such as this?
SE: It is definitely a major drawcard for me. Denmark is a long way from home (although I lived there for 23 years:). But in order to meet world class brewers and be inspired by their beers and techniques, it is important for me to travel far as they rarely make it all the way down here. so yes, definitely looking forward to that aspect as well.
MB: If you were to pair one of your beers with the perfect dish, what combination would we see?
SE: So many options. Probably one combination I enjoy most often is Big Smoke porter paired with a hearty stew. Pretty straight forward really.
MB: What should beer fans really not miss at Copenhagen Beer Celebration?
SE: The most impressive beer in the line up is probably Bumaye, a 16% Imperial Stout that was aged for 16 months in Pinot Noir Barrels. But CBC will also be a good opportunity to try our hoppy beers as fresh as they get in the northern hemisphere. I'm also working on airfreighting over a keg of "Fresh Hopwired" – a wet hopped version of Hopwired. But the beer is not ready yet (April 3rd) and the airfreight will probably turn out to be too expensive and too difficult.
8 Wired CBC Beer list:
Hopwired – IPA
Superconductor – Double IPA
Saison Sauvin
Bumaye – Barrel Aged Imperial Stout
Barrel Aged Imperial Smoked Porter
Rewired – Brown Ale
Grand Cru 2011 – Barrel aged sour quadrupel
Haywired – Hoppy Wheat Ale
iStout – imperial stout
Mighty – Oak Aged Strong Ale
That was all for now, next time we'll talk to Bret Kuhnhenn from Kuhnhenn Brewing Co. and yes, they might be bringing the Raspberry Eisbock! So for now, so long and thanks for all the fish!