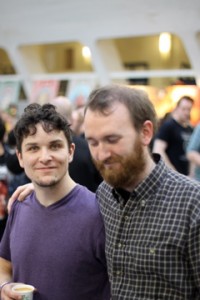 I remember how I felt last year, what the hell – half a year is way too much time to be spending on not drinking awesome beer. It was not that I had made a vow not drink craft beer for 6 months, it was just that I had bought tickets for Copenhagen Beer Celebration and suddenly came to awareness that it was months and months until it would take place. Some readers might question my enthusiasm for CBC, but for Swedes and probably other Europeans as well this is a chance to experience something we usually only read about. We do not get the brewers from the coolest craft breweries in the world to come and pour beers that we only have read about. So for me, this week will be one awesome week of relaxing and socializing with great beer lovers from all over the world.
We have 3-4 interviews left for you and I must say that it has been a lot of work getting them all done, edited and published but it has been a lot of fun as well. The last non-US brewery that we will focus on is Danish To Øl. Since 2010, Mikkel's former students Tobias Emil Jensen and Tore Gynther have travelled wide and far on their quest to brew great beers. To Øl started of easily with only a few beers but now only 3 years later they have gone from brewing light hoppy ales to all kinds of weird, hoppy, dark, abstract, minimalistic and blue. We tend to bump into these two polite lunatics every now and then so we felt that we had to check what was happening in preparation for CBC and with the brewery at large.
MankerBeer (MB): In 2010 To Øl came from nowhere and but managed to produce 5.300 liters of beer, in 2012 the production had grown to 124,300 liters. How have it been so far? Has it been an easy adaptation to go from home brewers to become one of the most known Danish breweries?
TEJ: It's a really good question. From the beginning we were homebrewers and you might sat that we still are. Because our friends liked our concoctions, we decided to go public back in 2010. Today, friends like our concoctions and therefore we decide to expand. Do you get me? The picture is the same, only the scale has increased. So far, it's been a ever increasing demand and passion for the beer, for which we are really grateful. Any day, if people won't buy our stuff anymore, me and Tore will camp in a summerhouse with some friends and empty our stock. It's as simple as that! But we hope that people will continue searching for our beers.
MB: How did you and Tore meet and decide it was time to start home brewing together, did either of you home brew before that?
TEJ: In the beginning we were just gymnasium friends who was hanging out at school. Brewing sounded interesting when Mikkel and some other students started the small brewing comitte in 2005. Me and Tore became friends when we were 16 years old. Back then, craft beer might not have been our highest priority 🙂 But the brewing science we learned later in gymnasium was attractive and fun. So we have always brewed together… When we left school and Mikkel had turned into Mikkeller, it was just obvious to continue by our own house.
MB: Along with the growth of production the To Øl range of beers have grown, when you started what were the long term plans? To start small and see where it leads you or were your aims set high already at the start?
TEJ: Me and Tore have been ambitious about this. But that's one thing…. Putting numbers and sales forecasts on that is the tricky part. So far, we have only been doing plans one year ahead. With the present growth, it doesn't make sense to plan any further. But I guess our ideas on To Øl is pretty high esteemed, that's for sure :).
MB: Together with Mikkel of Mikkeller you co-own the new Mikkeller & Friends Bar, when was the decision made to be partners in the bar?
TEJ: About the same time when we were considering to invite Mikkel into our company and expand our plc. It was pretty simple. like: Hey, now that we would work together we could do even more things together! We had been searching for some while for a good place and the joint at stefansgade just popped up in the same period we were discussing things.
MB: The opening party was great (thank you) and it seems like the bar has started off just like expected, how will the bar differ from other beer bars?
TEJ: Yeah, that was a blast. If you invite swedish people, you always know it's gonna be fun! I don't know exactly how this bar should be different, I just know that's it our bar. It's really not about creating the bar yourself, it's about the gathering the best forces. If you take Denmarks coolest interior designers, make them build a bar, install 40 taps and provide these taps with the best beer available. That's one thing. Then you headhunt the bar manager from Sweden and together with him pick the most passionate, beer loving, serviceminded staff you can find.
MB: With all the new To Øl beers, which one/-s are you most proud of?
TEJ: That's a really tough and good question. You might aswell ask Tore about this because we do have different. My opinion changes all the time, but right now, in this moment, it would be Dangerously Close to Stupid (IIPA). I think it's a delicate hop bomb….
MB: Several Danish "gypsy brewers" have focused more on the US and tried to set up brewing there, any plans to follow?
TEJ: We are an open minded brewery, brewing beers for an international beer scene. So yeah, I mean why not? But the settings need to be just right and we need to trust the people we are working together with.
MB: Earlier this year, you and Tore were over to visit Against the Grain with the result being poured at CBC, any new collaborations on its way? If not it's the perfect season for a To Øl/MankerBeer collaboration 😉
TEJ: Hehe, you're damm right Manker. Travelling is always fun, so we always look for something nice. We are going in late may to England, to brew together with two of the ratebeer top 100 breweries. And I think that your devotion to beer in Sweden might cast off a little brew in the future…
MB: How do you and Tore set your own individual flavor on To Øl? Do you ever disagree on things and what it is you want to do?
TEJ: Me and tore have a very good friendship. So for the development of new beers, it's kind a like a laidback discussion about whats good and whats bad. And we both have these spontaneous ideas shooting up at one point or another and they should also be followed. Even if we did disagree on one beer, it's not that hard, because we can just decide to brew two different beers instead. Numbers is not limiting us.
MB: After the Friday and late Saturday CBC sessions – where should one enjoy the best grub?
TEJ: A lot of small places are shooting up in the area around jægersborggade and stefansgade. I live there myself, and i really like the area. It's low key for sure, but it's comfy.
MB: You were at last year's CBC, what were your favorite moments?
TEJ: Whooo, tough one. I'd guess it was when the boys from three floyds decided to use a smoke machine at their table, without noticing any official at CBC. We were standing next to 3F. Suddenly the manager came rushing, with really open eyes, asking what was happening or if there was a fire. But it was just 3F who had covered the area in smoke and playing loud on their stereo. And besides that, I guess all the beer was pretty good!
MB: What should beer fans really not miss at Copenhagen Beer Celebration?
TEJ: The product of our experiments with some of the best bartending dudes in Copenhagen. That's gonna be exclusive!
Thank you Tobias! Now let us see what To Øl will bring to the celebration, changes may occur and not all bottles, kegs or random fun will be available at all sessions.
To Øl  CBC Beer List:
Fuck Art – This Is Advertising
Fuck Art – Let's Dance
Fuck Art – This Is Architecture
I've Seen Bigger Than Yours
Liquid Confidence
Sur Mælk
some surprises for red session