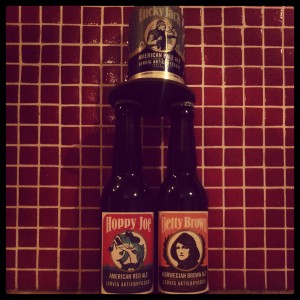 Jag hoppas att ni märkte att det stod "i" och inte "till" i rubriken, för tyvärr är det inte en flytt till Sverige som norska Lervig kommer att göra utan det rör snarare hur de distribueras. Lervig tillhörde tidigare Elixir Wines men har tillsammans med Ugly Duck (Dan), Kona Brewing Co (USA), Widmer Brothers (USA) m.fl blivit ett av Brewery Internationals märken.
Vi intervjuade Mike Murphy, bryggmästare på Lervig, i samband med Stockholm Beer and Whisky Festival 2012 och jag rekommenderar intervjun för er som vill lära er lite mer om bryggeriet.
Bland annat ger Mike sin syn på burköl, deras american pale ale Lucky Jack är en av ölen som kommer på burk och som han själv säger;
MB: For those of us that follow your blog we read your take on canning beers. What are the biggest prejudices against canned beers here in Norden?

MM: Like most places people assimulate can beer with cheap beer, like a screw cap on wine, basically because most craft brewers can not afford a proper bottling line much less a canning line, therefore it must be a mass produced lame beer in there… I just tell people it's not any differnet than a small keg, it may look and feel less special in the can but when you need to carry the dead bottles from your home to the recycle center you can feel the differnece as well. I like that the can has more printing options, better on the environment as far as trasnsport, and it actually stores the beer better than a glass bottle… It's nice to have a choice and I really believe that cans are the future even for craft beer.
Förutom den finns bland annat den friskt humlade amber ale'en Hoppy Joe och den lättdruckan brown ale'en Betty Brown. Med tiden kommer säkerligen fler öl och jag tycker det är kul att båda få mer kontinuitet i Lervigs öl här i Sverige men också att vi kanske får se mer burköl både på krog och Systembolag. Självfallet kommer recensioner på samtliga dessa framöver.
Att vi ser större aktörer som Brewery International och Galatea satsa mer och mer på craftsegmentet kanske vissa tycker är negativt och att de rider på en våg, hype eller bara på marknaden. Själv tycker jag att det spelar noll roll då vi som konsumenter i slutändan är de som styr vilka öl vi vill köpa och jag ser det bara som positivt att vi får fler och fler bra bryggerier representerade i Sverige. Detta ökar både intresse och internationell medvetenhet om Sverige som öl-land, eller har jag fel?