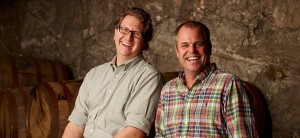 I just found that I missed this pre-Copenhagen Beer Celebration interview with Mike Stevens, co-founders of Founders Brewing Company. The great brewery behind personal favorites such as Breakfast Stout, Imperial Stout and Nemesis (among many others). Since I got into the luring world of craft beer Founders have been of my favorite breweries and among all the breweries I have gotten to know they have been among the top when it comes to deliver high quality beer – beer after beer.
Their Breakfast Stout, with its scary (at least according to Swedish liquor monopoly Systembolaget) label with a child eating his oatmeal for breakfast was released at Systembolaget but quickly removed. Apart from that and the Pale Ale we have not been to spoiled with their beers, at least not at Systembolaget. Quite sad as several of them would be given in any beer drinker's beer cabinet. Together with Left Hands old Imperial Stout I rank Founders Imperial Stout as one of the better among the "clean" imperial stouts which have no need for vanilla, oak aging or 17% ABV strenghts. It's simple and clean and a great beer. The same goes for their moderately hoppy Harvest Ale which M2 and I enjoyed in the New York streets, brown paper bag style – living the thug life..
Anyway, the interview.. I edited our interview and removed some of the parts focused on CBC which might not be that much of interest at the moment..
MankerBeer (MB): Founders,  founded in 1997 has grown to one of the more prominent and respected breweries on the US beer scene – how did you decide it was the right thing to do to start your own brewery?
Mike Stevens (MS): We were home brewers, we cared more about making beer and less about running a business. It was this approach that helped us stay focused on our dream, and to not give in.
MB: Both you and co-founder Dave Engbers were home brewers before starting the brewery, but did you have any practical experience of brewing in larger volumes? What was even the production capacity the first couple of years?
MS: Neither one of us had experience brewing on a commercial system, but knowing how to brew is a lot easier to overcome than knowing what to brew. This is what Dave and I did best.
MB: How have the brewery's trip been so far, what have been most difficult?
MS: It's been a long hard road, but very rewarding. 18 years ago we wrote a business plan, we hoped to make beer for a living and keep our brewery alive. By no means were we an overnight success, in fact quite the opposite. We lost money for 10 years straight. Cash was perhaps one of our largest obstacles to overcome. We simply never had enough. We managed to stay focused to our commitment of making great beer even through these difficult years. Ultimately we beat our cash flow blues, after a decade of battles. This history gives our brand legitimacy. Founds is a brand truly created on the foundation of a non compromising approach to quality & exploration.
MB: What suggestion do you have for all the passionate home brewers out there who dream of one day being able to open their own brewery?
MS: Dont just make an IPA. Create something new. You have to turn left, when others are turning right.
MB: Among all the beers Founders have brewed, which one is your favorite and do you have one you have not really been satisfied with and wanted to adjust?
MS: Dave and I have always said picking one favorite is like picking your favorite child. You love them all equally for different reasons. I can fo for over hopped IPA's to super heavy malt bombs simply depends on the situation. Right now on the hoppy side I'm really hooked on our All Day IPA, on the malt side Backwoods Bastard.
MB: This year you broke into the top 30 largest craft breweries in the US, how have your perception on what you have created and wish to lead changed along the growth of the brewery?
MS: As strange as it might seem, things remain the same. The place is a bit larger, and the staff continues to grow. But what we do, day in and day out, has not changed. Our recipes, processes and brewing methods remain unchanged. We focus on beer, and making some of the best in the United States… Its all we care about.
MB: There has been a lot of debate in the US about the topic of craft vs crafty – what is your view on the whole thing? Does it even matter?
MS: Beer should be authentic, and brewers should be passionate. Motivations such as profits should not drive your brewery. So long as the ownership truly lives by this, I don't have a problem. Now that being said, I don't believe the "crafty" crowd you are referring to is developing theirs beers for any other reason than profit. From the "authentic" side, I believe breweries should be honest about who is making their beers – it shows authenticity and pride.
MB: Some of the world's top brewers are at the celebration, how important are events like this which offer a chance to network? Any specific brewer/-ies you are extra keen on trying or meeting?
MS: We respect our fellow American craft brewers and have been for years. Most of this adventure for us will be having the opportunity to sample what Denmark and other international brewers are doing.
Thank you Mike, and for all those who attended CBC 2013, I hope you did not miss Founders booth! Beers such as Bolt Cutter, Backwoods Bastard and All Day IPA were fantastic! I really hope that Swedish importer Brill & Co will push more and more Founders onto the market as they deliver pure class.