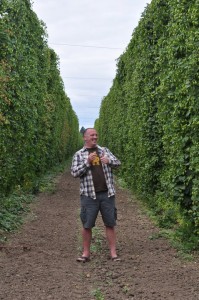 Copenhagen Beer Celebration 2013 showcase one of the craziest line-ups of breweries I've seen with breweries from unexpected places such as Brazil, Japan, New Zeeland – and China. You seldomly see craft beers from the closed and isolated China, The Boxing Cat Brewery tap takeover at Mikkeller Bar in Copenhagen a welcomed exception. Together with US born brewmaster Michael Jordan the CBC team have managed to get ahold of 9 different beers that will be poured during CBC. It will be wicked fun to try some proper beers from China and to be able to get an idea of where the Chinese beer culture is developing. We knew we had to get ahold of Michael to check whats happening on the other side of the wall and to hear how an American citizen makes the decision to become a brewer in China. Lets start rocking!
MankerBeer (MB): A brewery, in China, with an American brewer? For those unfamiliar
Michael Jordan (MJ): The brewery was founded in April 2008 by 3 people from diverse backgrounds. Kelley Lee had been in Shanghai for awhile and had opened a few restaurants prior to opening Boxing Cat Brewery. She is an American Born Chinese that grew up in Los Angeles. She got here degree at USC before attending culinary school in France. The other parter is Lee Tseng who originally hails from Toronto but was born in Taiwan. He had also been in Shanghai for awhile and dabbled in real estate and opening the first Illy cafe in China. The last founding partner was Gary Heyne who originally hails from Houston, Texas. Gary had been in Shanghai for about 2 years and had opened a brewery prior to Boxing Cat Brewery but the management terms were unacceptable so he wanted to open his own brewpub. The 3 of them met and decided it was a great idea to open an American themed brewpub in Shanghai focusing on Southern cuisine and craft beer modeled after North American standards. The influence of North American brewing standards is evident in our beer menu as we like US craft beers and brew many different styles that are popular in the US. We also like to experiment and use some local ingredients such as Sichuan Peppercorns and Fresh Ginger in a Belgian Tripel we do. We take pride in our innovation and pushing beer boundaries while educating people about craft beer in China. The beer culture in China is much different in that they often shotgun 5 oz beers (ganbei) while eating and it's a "face" thing to show how much beer you can drink in dining occasions. This beer is extremely light in flavor and alcohol so they can do this easily. It's not easy to do with Boxing Cat Beers as our beer has flavor and of course much higher alcohol.
I'm an American craft brewer that has been brewing professionally since 1995. Most of my time has been spent working in the Portland, Oregon area. I have seen many different breweries including the following in chronological order; Nor'Wester Brewing Co., Saxer Brewing Co., Henry Weinhards, Grand Teton Brewing, Couer d'Alene Brewing Co and Widmer Brothers Brewing Co. My last position in Portland was a great 5 years where I was eventually promoted to Lead Brewer for Swing Shift operations. I left Widmer in 2008 to move to Denmark and work for Bryggeriet S.C. Fuglsang in Haderslev. I was Brewmaster for Fuglsang and had some responsibilities on the QC side in the malting plant in Haderslev. I enjoyed my time in DK but needed more creative freedom and found an awesome opportunity in China of all places. I have been with Boxing Cat Brewery since October 2010.
Education wise: I studied Life Sciences in University so lots of Biology and Chemistry. My original goal was to join the medical field after University. I began homebrewing in 1993 and fell in love with the hobby. I witnessed (and participated) in the first big wave of craft brewing and thought it would be a fun industry to join with the idea that I could open my own brewery someday. Along the way I have taken some brewing courses at Siebel Institute of Brewing Technology in Chicago and some online courses from Heriot Watt in Scotland. I used this education to pass the rigorous Diploma Brewer Exams from the IBD in London.
In general I like to experiment with beer and have 100% freedom with my current job. It has allowed me a great creative outlet while producing some wonderful beers that our customers get to enjoy. It's a great situation for me personally and to also participate in the pioneer movement of craft beer in China.
MB: You have worked at places such as Widmer Brothers and Danish Bryggeriet S.C Fuglsang – what are the ups and downs with suddenly starting to brew beer in China?
MJ: The ups and downs of brewing in China primarily revolve around the infancy of the industry. It's challenging to educate customers but I feel that we do that well and put our best foot forward when brewing International styles. I refuse to dilute an American IPA because the locals might find it too bitter. We have expats that crave a true American IPA or Imperial Stout so we do it properly and realize the locals will either not like it or take awhile to warm up to. In the end if anybody can enjoy 2 or 3 of our beers that we offer I'm a happy brewer and the business is happy. So far we're doing well so we haven't departed from that equation.
One big issue is sourcing quality ingredients. Over time I've gotten us to use 100% imported raw materials because our focus is on the quality and having the best craft beer in China. I've used my contacts to source American hops and am proud of what we're able to accomplish using these hops. Of course they're not cheap but it's about the quality for us and passing some of the extra price onto the customers that appreciate a quality product. The imported malts available in China are great but limited to 2 different vendors. I work with these vendors to provide me with malt but it's difficult to forecast malt needs 3-4 months in advance and make sure they arrive in time. So we have to take on a buffer of storage as the importer will not stock much malt in country. The pricing is also elevated a bit more than I deem necessary so hopefully over time more competition will drive down the price. Paying 3X the amount from my days in DK or USA can be hard to swallow at times…..Liquid yeast is also difficult to obtain so we go through extra measures to bring it into the country or propagate in the brewery. We can easily buy dry yeast but the varieties are too limiting for what I want to do. I've always used liquid yeast and feel it's a better product so we go through the difficult measures to make the beer top notch.
The last challenge is probably the biggest. We can only produce our beer on a brewpub scale right now due to the regulations and restrictions put in place by the government. Operating as a brewpub is easy and basically falls under restaurant licensing. If we want to build a microbrewery and distribute our kegs outside our own locations then it falls under a different classification that is extremely hard to overcome. They want to treat us like a huge brewery so we have to adhere to the same guidelines as the big breweries. From an operational aspect this is easy as I'm sure we operate much better from an environmental aspect. The taxation policies and what's required to obtain the production license are the real hurdles. We're still trying to do this and hope to overcome these challenges in the coming years as our end game is to distribute throughout China with both kegs and bottles.
The upside for craft beer is tremendous in China even though their are many challenges. People are very interested in diversity of products and can appreciate a flavorful beer. The disposable income of Chinese is growing so "luxury goods" are becoming more and more appealing. It's fun to be on the pioneer side of this movement as Boxing Cat and myself are really able to help shape the future of craft beer. We take a role in educating customers but also working with other craft breweries in China to promote craft beer. We do this by organizing craft beer festival or starting something like Shanghai Beer Week. We also do some co-op purchasing amongst ourselves to fill containers of malt and source ingredients together while importing them ourselves. There is a lot of excitement of craft beer in China right now and it's amazing to have this opportunity. Working with other International brands such as Mikkeller has also been awesome as it sheds light on brewers working together while also getting a bit of media attention for craft beer.
MB: RateBeer currently list 37 Chinese breweries, including 6 that now are out of order. Why the low amount of breweries, doesn't at least a few of the over a billion Chinese like beer?
MJ: Ratebeer is not widely used in China as the website is often blocked by the government. To access this site or other sites like facebook/twitter you have to use a VPN. Therefore Ratebeer ratings/listings are low in China and not really reflective of what is happening with craft beer in the country. Untappd is an application that is gaining usage and something that I use and help moderate within China. In the end China is the worlds largest country for beer consumption due to the 1.34 billion people that live here. The per capita consumption is low compared with Western countries but when it shifts 1-2% a year it's a massive jump in total consumption. We don't worry too much about that in the end. If craft beer can get a portion of 0.5% we'll all be rather happy!
MB: What would it take to start a Chinese craft beer movement, much of what has been seen in other non-traditional beer countries?
MJ: Well I think the Chinese craft beer movement has already started dating back to 2010. The interest in craft beer is seen with the surge in more and more brewpubs opening and beer festivals catering to just craft beer. We're seeing increased interest with imported beer with craft beer here from USA, Scotland, Wales and Denmark. More and more bars/pubs are opening and carrying great imported beer from Belgium plus craft beer from Mikkeller, North Coast, Brooklyn, Rogue or Brewdog. In the past 2 years a quarterly beer publication has started called Hops Magazine. Recently they started publishing a Chinese language edition and it's really taking off. The interest in homebrewing is also surging forward with many local homebrew clubs forming and some homebrew competitions happening. It's a bit of a complete package and I see lots of great things happening for craft beer in China. Craft breweries (including Boxing Cat) are being asked to participate in the huge Chinese beer festivals so I think the recognition of our little industry is happening. The more exposure we receive and use that opportunity for education the better we'll all fair in the end. In the end I do a lot of staff training regarding our beers so our staff can help educate our Chinese customers. Simple stuff like literature explaining beer styles in dual language goes a long way. Having a tasting tray so people can taste and discover beer on their own is also a great experience. I really feel that we're doing many of the things you see happening in other countries, we're just a bit behind. Luckily China likes to move fast so maybe we can catch up a little bit:)
MB: As a beer drinker in China, how do you find craft beer to drink at home or in bars?
MJ: You can drink craft beer at either home or bars. There are not a lot of places to drink craft beer as far as bars go so you have to seek it out or know where to go. Craft beer in bottles is perhaps easier to find as we even have beer specialty shops that will deliver beer to your doorstep. I order beer for deliver from a company in Shanghai called Cheers In. It's a great service where you can shop online and choose a time for delivery while even requesting that the beer be delivered cold. If you order a small volume around 8-12 bottles depending upon price the delivery is even free! Of course seeking out the local brewery is a great way to discover craft beer and probably also meet other craft beer aficionados in the respective Chinese city.
MB: You brew everything from hoppy pale ales to IPA to a smoky porter but who is the average Boxing Cat beer drinker in China?
MJ: We do brew a diverse range of beers at Boxing Cat. Last year we brewed something like 35 different beers which is pretty good for a little 1000 liter brewhouse only serving beer within their own locations. Our best selling beer is Right Hook Helles. It's our lightest beer (4.5% ABV, 15 IBU's) that we offer year round and it's a lager. In general Chinese are used to lager beer so it's no surprise it's our best selling beer. Saying that it's about 1% ABV higher than their used to and it has lots of taste and body when compared with Tsingtao. Our second best selling beer is TKO IPA, so complete opposite side of the spectrum. The expat customer base is primarily responsible for this consumption but we're seeing more locals try this beer. They like the citrus notes but sometimes the bitterness (62 IBU's for TKO IPA) is a bit much for them. If this is the case we try to let them sample Sucker Punch Pale Ale as it has similar citrus notes from the Citra hops with less bitterness (38 IBU's). We have a few new beers that we've done recently that have been enormously popular so we're still figuring out the local preferences as well. One example is Contender Extra Pale Ale– brewed with Mosaic hops and dry hopped rather liberally with this same hop variety. Lots of tropical fruit notes in this beer but low bitterness at 16 IBU's. Some of the local Shanghainese food is a bit sweet so the local preference is along sweetnes so some of our newer beers are along these lines, such as Ringside Red Lager (malty with low hop character).
MB: Have you ever though of brewing a beer with traditional Chinese ingredients and/or for the typical Chinese cuisine?
MJ: We definitely brew with traditional ingredients. I mentioned the Sichuan peppercorns and fresh ginger in Tripel Threat earlier. I brewed Bruce ChiLee IPA with Mikkel when we did the collaboration brew. This beer used local green chillies with medium spice and a large Simcoe hop addition. We've brewed with local pumpkins in our Fall seasonal beer. I made a wheat beer using kaffir lime leaves, kaffir limes and lemongrass. This beer was popular so I need to brew it again. I've done a collab beer with Great Leap Brewing based out of Beijing where we used Yunnan Black Tea in the beer. Another example would be the mango ale we made. I'm currently working with a local coffee roaster to make a coffee beer. This coffee beer is based upon a Pale Ale recipe using single origin coffee that has berry and chocolate notes. In the end using local ingredients is great and something I'll continue to explore. The food in our 2 restaurants is American so in the end I'm pairing our beers with American cuisine. Occasionally I'll sneak a growler into a Chinese restaurant to see how it pairs with different Chinese cuisine. It would be fun to play around with this some more but that most likely won't happen until we get our production license and distribute to local Chinese restaurants.
MB: You have been with the brewery for a little more than two years, what is your vision? Do the bureaucracy and problems with importing ingredients ever frustrate you and would it be possible to expand or find new international markets?
MJ: Our vision is to be the most innovative craft brewery in China that is Internationally recognized. We want to open a production brewery and distribute throughout China and potentially look at other export markets. It's a big challenge as I discussed earlier but something we will battle and eventually overcome. I definitely get frustrated at times…luckily I have a never die attitude and realize that we're in a unique position to shape the future of craft brewing in China. I've never had this type of opportunity in the nearly 20 years of brewery experience. I knew coming in the job would be challenging so I signed on with that intention. We've figured out ingredients issues since I arrived and it's a great feeling when you accomplish something that has been a huge hurdle. For better or worse I share my experiences with other brewers in the country….It's who I am based upon my brewing experience in the US or Europe. Brewers share information to better the movement for the entire beer community. We have a few players in China who don't get that right now. In the end it's their loss and something I've seen before. Most likely those players are only in the industry to make money and don't have the passion that the rest of us have. If history has taught me anything those same breweries won't exist for very long.
We've figured out how to export beer for a few beer festivals such as Copenhagen Beer Celebration. It's difficult and costly. I believe most beer was shipped via boat to Copenhagen. Our beer went on a plane so it's pretty damn fresh and has seen limited abuse from transportation. We mainly due this to eliminate delays with customs and shipping issues but it feels good to send beer to DK and have it arrive and clear Danish customs in 10 days after it left the brewery in Shanghai!!
Of course exporting beer like this is not a long term business solution so we'll participate in a few International beer festivals but we cannot do too many at such a high cost. In the end there are so many opportunities within China that we want to focus on the local market and not get ahead of ourselves. We want to do well in China as that's our primary focus.
MB: What should beer fans at Copenhagen Beer Celebration really notmiss?
MJ: I feel we have a diverse lineup of beers we've sent to Copenhagen. I think hopheads will like TKO IPA and Firecracker Imperial Red…maybe Sucker Punch Pale Ale too. King Louie Imperial Stout is a beer I'm very proud of and I think the Bourbon edition is tasting awesome. 13 months in Jim Beam Barrels has treated this beer well. We shipped extra kegs of this beer along with TKO IPA and Bare Knuckle Barleywine. I hope people can enjoy Chinese craft beer with a bit of an American attitude!!
Thanks for reaching out to us and see you in Copenhagen!!
We thank Michael fore taking the time to put some light on the Chinese craft beer scene and sharing some of the difficulties with pushing craft beer in such a closed country. CBC will be a great opportunity to try a wide range of The Boxing Cat's beers and don't miss out on giving Michael some praise or feedback on what you try! We are looking forward to it! Below is the list of beers, as always the preliminary line-up where changes may occur and differ throughout the different sessions – Pink! For an overview on all the beers – consult this amazing online list of beers (which will be updated frequently with more beers, and maybe new breweries)
The Boxing Cat's CBC Beer List:
TKO IPA
Sucker Punch Pale Ale
King Louie Imperial Stout
Firecracker Imperial Red Ale
Bare Knuckle Barleywine
Donkey Punch Porter
Bourbon Barrel Aged King Louie Imperial Stout
Ringside Red
Undercard Imperial Brown Ale