Attending and reporting from Stockholm Beer and Whisky Festival did not only mean that me and M2 would get the opportunity to try amazing beers, meet new and old friends and experience the festival from a new perspective than what we used to as "regular visitors". This time, at this year's festival we got the opportunity to meet some of the worlds best brewers up close, eye to eye in a whole new way. One of these brewers used to be somewhat of a myth, a supposedly somewhat shy person says some, others describe him as the best flying brewer in the world and yet others as a pure brewing genius. On our part Mikkel Borg Bjergsø was a mix of it all. M2's love for several of his beers and my own love for, well, almost every single one of the 70+ (and counting) beer I've tried by him made us even more excited about the interview.
I have only met Mikkel once, when  visiting Amager Bryghus during a short stay in Copenhagen this spring. Already theen did I experience that there was something special about Mikkel, something calm and "well thought through", something one wanted to know more about. So when M2 and I got the opportunity to attend his Master Class during the last day of the festival it was with well deserved excitement. As we missed the opportunity at the Brewery Brunch at Bishops Arms that had taken place the day before we had now been able to set up an interview after his Master Class. Now we had the perfect opportunity to talk to both Mikkel, and his sidekick Thomas Schön (more about that guy later) and for us to understand Mikkel's idea of brewing beer.
---
The Master Class was divided between Mikkel and Thomas where they introduced the beers and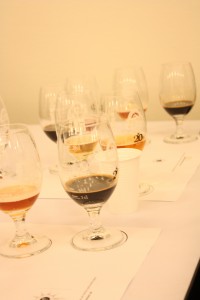 explained the idea behind many of them. Thomas, the only employee of Mikkeller except for Mikkel himself and the two "beertenders" at Mikkeller Bar, explained how he had started as somewhat of a stalker, always writing Mikkel and popping up at the bar where he was – and ended up working with him (as Mikkel said, to be able to keep an eye on Thomas's whereabouts). We will not focus too much on the beers in this article but in turn we tried: the much appreciated and balanced yet hoppy American Dream (in the US called Danish Dream), the slightly more hopped witbier named Not Just Another Wit, followed by one of our favorites which we talked about in our Beer and Food TV episode with sushi – Nelson Sauvignon, the chipotle spiced yet impressively balanced Texas Ranger (Chipotle Porter in the US), one of my top-beers during the festival Spontancassis, Black Tie – a beer brewed on Marc's (Brill) wish and which was made for the Swedish market (the unaged one is called Mandeøl).
During and after the tasting there was a Q/A where Mikkel politely answered on all questions, some of which we were to ask him but now could work a little more with. So let us leave the beer and direct our attention to the table where Mikkel, Thomas, M2 and I sat by – time for a 'tough' interview with Manker Beer (we'll mix some of our questions with the answers from the Q/A, Master Class and tries transcribe it as correct as possible).

Q: How come you don't get your own brewery?
A: I don't like the act of brewing but rather to come up with recipes and learn more about brewing the best beer possible. I only work with breweries which I respect and which I believe are the best for the beer that I want to brew. As Nøgne Ø makes the best dark beer in the world, I brew my dark beers there, as BrewDog makes the best hoppy beers, I brew mine there. But I do not just send a recipe to a brewery and say "here, brew this" but am receiving samples all through the brewing process to monitor and be able to adjust them.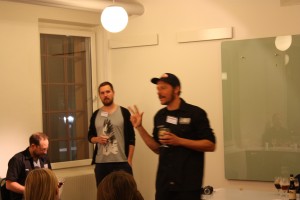 Q: You have collaborated with many of the top breweries in the world, what would be your dream collaboration?
A: Here Mikkel nods to Thomas who quickly replies 'Orval' and 'De Dolle'. The former as it is the best, or almost perfect beer, in the world according to Mikkel while the second is a brewery he really respects and would love to collaborate with. The former less likely than the second they agree. They even suggest that Mikkeller It's Alive is an attempt to brew an Orval like beer.
Q: How do these collaborations come about, do breweries come to you or you to them?
A: I get many suggestions from breweries which want to brew with me. But first of all, for me to be able to brew with them I have to respect them and feel that I can learn from the experience. Three Floyds is the best brewery in the world and I feel I learn something when brewing with them. At other occasions, such as the beer made with Alesmith and Stone I have always wanted, and still do, to brew with Alesmith. Then they rebuilt their brewery and Stone suggested a three way brew, so that way it was.
Mikkel, a school teacher for trade really came back during his Master Class and the interview that most of what makes him brewing new beers and collaborating is to learn, to search for the best possible beer. To not just go with "okay" but aim higher and only release beers that you are proud of. The same goes for collaborations, respect and learning is the key stones behind all of Mikkel's decisions. Which also can be seen in that he does not have any ads at all for his beers, all this is handled by Thomas and his funny little Youtube clips – Mikkel just does not care about that part of the industry, he wants to brew beer. Period.
During the Master Class Mikkel touched upon the subject of beer and food and both Mikkel and Thomas made some short remarks on how beer is now entering the better restaurants. A process which they want to add to, from the bottom down. Which was also a subject M2 wanted to bring up during the discussion.
Q: The best restaurant in the world, Noma in Copenhagen, and you created a brew together which is called Noma Novel (which you cannot get outside Noma), can you tell us about that? 
A: The Noma Novel is a belgian style ale that we made together with the sommeliers and owner of Noma, it is designed to not take over the flavors of the food that is usually very delicate and clean flavors, it was a lot of hard work to get it just right, but we were very happy with the result in the end. We actually invited a bunch of sommeliers from the best restaurants in Copenhagen some time ago to the Mikkeller Bar for a beer tasting, we want to show them that beer is more than cheap lager, which you normally get at most restaurants with huge winelists for some reason, and most of them were really surprised over the complexity and flavors you can get from beer. We're hoping to see more craft beer on the fancier restaurants shortly.
Not only have Mikkel brewed this beer, but the asian restaurant Kiin Kiin both have a beer called Dim Sum Beer and one called Kiin Kiin which are supposed to lift the food flavors rather than stand out as the perfect beer. If you eat some of the best food in the world they both explain, you want to taste the food, not destroy it with a lousy beer nor drink a good beer that takes the attention from the food.
M2 as the IPA fan he is just could not let the subject be but wanted to know:
Q:  As a huge IPA fan I would really like to know what's your favorite IPA?
A:  I really like what Three Floyds are doing, it is probably the best brewery in the world, that's why we are doing the Goop-series with them. So I wanna say that Three Floyds Dreadnaught is the best IPA style beer I had.. We are actually working on a new DIPA right now, which we will call Hop Burn High and Hop Burn low. It's the same basic recipe, but with two different types of yeast, lager yeast for the Low and Ale yeast for the High, to show how different styles of yeasts effects the flavor of the beer.
Q: Let's continue on the hop train, you have an annual competion, Mikkeller Hop Bomb Challenge, where home brewers can enter their with their best hoppy beers. The first price is to do that actual recipe as a collaboration brew with Mikkeller. What would be your main tip for anyone to have the slightest chance of winning?
A: At the same time Thomas and Mikkel reply –  Balance. Mikkel elaborates: We are really looking for the most balanced beer in the Hop Bomb Challenge, it's not the hoppiest beer that will win, even though hops are important. It is both a fun competition, but also a way to see what others brew.
Q: For a brewer that released 80 (new) beers only last year it is not surprising that we asked them what their favorite beer at the moment is?
A: Thomas: It's actually the one we just tried, Mikkeller Nelson Sauvignon, because it is very complex and balanced, and there are so many different flavors. Mikkel: I agree, Nelson Sauvignon is my favorite as well, every time you drink it you discover new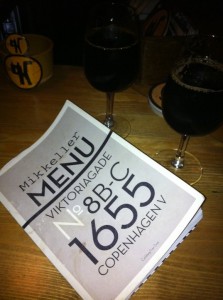 flavors in the beer that adds to the complexity.
It was time to wrap up the interview and while scribbling down the last notes I think M2 had the same feeling as I had – that Mikkel had gone from the shy flying brewer to a man with certain ideas about what he wanted to do, and which he does. For Mikkel it is all about the beer, learning about how to make different kinds of beer by working with the best, learning from the best and always striving to improve. Almost the same words comes out of the mouth of Tobias Emil Jensen, one half of To Øl Mikkel's old pupils which now brew their own beer. Tobias expressed the same burning passion to make the best beers at the best place to make them, and according to their idea of what they wanted to do. So things are happening in Copenhagen, and all because of a teacher aiming to make as good beers as possible by learning through doing. A great aim in our beer tuned ears!
So next time you are in Copenhagen, if you haven't already been there, don't miss out Mikkeller Bar, positioned on Victoriagade 8, just a few hundred meters from the central train station. A great place to enjoy both several Mikkeller treats as well as stunning cheese and sausages and other world class beers.