Äntligen kikar solen fram och efter den tidigare "solölen" – Element Brewing Interval Ale (Summer Pilsner Fusion) så fortsätter vi på soltemat. Mikkeller gör varje år en Drink'in the Sun, en låg alkoholhaltig öl som kan liknas vid en american pale ale med sin fina fräscha humlekaraktär. Varje år sänker han alkoholhalten något för att visa att det går att göra välsmakande lågalkoholhaltig öl. Brill & Co har bekräftat att de kommer få in den igen i år och det är inte stora mängder det handlar om och i fjol fanns det på ett par få ställen i Stockholm, där den tog slut rätt snabbt.
Mikkel har också gjort en "starkare" variant baserad på denna öl tillsmmans med vännerna i Texas, Jester King (bryggeriet bakom Black Metal Imperial Stout som vi har här i Sverige). Denna session ale ligger på 4.2%, ungefär det dubbla mot Drink'in the Sun och är en amerikansk veteöl som humlats ordentligt med Amarillohumle. En session ale på storflaska kan det verkligen bli bra – om det blir det så är det ju perfekt, en fullstor öl men med mindre alkohol. Session ales börjar bli lite av den nya humlen och det kommer bli intressant att se om det slår även här i Europa. Men nu tar vi och njuter av sista helgdagen och dricker lite sommaröl.
Jester King/Mikkeller Drink'in the Sunbelt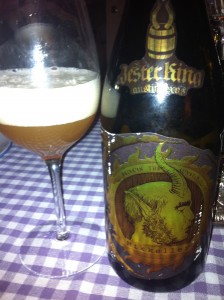 Utseende: I glaset återfinns en guldisig vätksa med vitt rätt kompakt skum
Doft: Fräsch fruktig arom med amarillohumlen som är mest utstående. Citrus och ljus fruktighet med inslag av blommor och grapeskal. Som en mer komplex och humligare veteöl.
Smak: Lätt munkänsla med okey till bra kolsyra. Riktigt fräsch smak med lime och grape för mer syrlig frukt men även med inslag av lite sötare fruktkött av tropiskt slag. Det är mycket citrus och kryddig vetemalt vilket ger lagom variation men en stor "hinkabilitet".
Betyg? – Bättre-. Smakar som en humligare pilsner eller lättare IPA med fina inslag från vetemalten. Ölet är på lättsamma 4,2% och att det här är tänkt som en session ale är ingen underdrift för med lätta men tydliga smaker och fräsch fruktighet så kan man dricka både två och tre glas utan att vare sig tröttna på smaken.