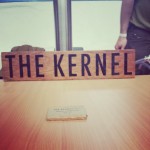 Äntligen! Äntligen? Eller så nöjer vi oss med att konstatera att Copenhagen Beer Celebration 2013 nu är över. Efter att ha varit i skandinaviens ölcentrum nummer 1, Köpenhamn i dagarna fem så är det med all rätt man får känna sig lite sliten. Kikar jag i mitt excelark så ser jag att jag provat närmare 300 nya öl, bekantat mig med 10-15 nya bryggerier och tagit en hejdundrans massa foton. Jag har mött nya och gamla vänner, jag har skålat i öl med några av världens bästa bryggare och jag har planlöst strosat omkring i Spartahallen och bara njutit av hur galet allt är.
När jag skrev min förra, något kortare sammanfattning så handlade det mest om de första spontana intrycken efter fredagens session. Då hade jag ingen aning om hur galet lördagen skulle bli, två pass skulle betas av, folk skulle vallas in ut, runt, tillbaks och slutligen om igen.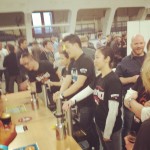 Likväl flöt allting på tämligen bra och jag såg väl inte direkt några ledsna miner hos alla de som vi mötte – eller har jag fel?
Det coola med CBC är hur det knyter ihop den internationella ölscenen på ett sätt ingen riktigt gjort förut. Jag satt och drack öl med Todd Haug (Surly Brewing) och hans trevliga fru Linda på torsdagen och någon dag senare så ropar Linda glatt att jag måste träffa den grekiska ölbloggaren de just snackat lite med. Kort därpå kommer ett gäng brasilianska ölentusiaster förbi och undrar vart de bör gå för de bästa ölen, följt av ett möte med en spanjor jag träffade i Köpenhamn förra året i samband med Pearl Jams konsert i staden. Med andra ord – alla finns representerade på CBC.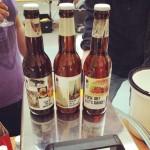 Det svåra är väl att välja ut mina favoriter. För många provade öl, för mätta smaklökar och fokus på att umgås med galna vänner stod föra i kön. Däremot vill jag lyfta fram To Øl's "Fuck Art – Lets Dance/This is advertising/This is architecture" som inte bara hade galna labels utan var hiskerligt bra! Lika fantastiska var Mikkellers "X"-öl, de öl han började med runt 2006/2007 och som idag är mytomspunna och beryktade – men Imperial Stouten och Big Tony var å andra sidan just så bra som legenden sagt. Att hans Spontandoubleblueberry troligen är den vackraste ölen som skapats är kanske upp till var och en at tycka men det rosablå skummet, den härliga färgen på vätskan och att ölet är makalöst gott gör att den nog kan placera sig som 1a på min lista.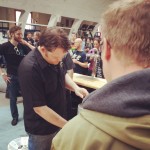 Sedan är man väl en bov om man inte nämner hur fin Kuhnhenn Raspberry Eisbock var, bröderna och bryggarna Eric och Bret stod stolt och hällde upp ölet under fredagen.  De lyckades även knita till sig 5 glas av den som de i smyg hällde upp under början av lördagen, generöst och ödmjukt – själv hade jag förstått om de glupskt smaskat i sig de sista glasen. Annat amerikanskt som bör lyftas fram är Lagunitas Sonoma Farmhouse Hop Stoopid som såhär färsk och god piskar många andra dubbel IPAs. Against the Grain kanske inte hade bästa ölen men Sam, Jerry och de andra var de skönaste bryggarna att hänga och snacka skit med – helt galna. Att Chad från Croocked Stave gästspelade hos dem med lite av sin öl under senare passet på lördagen var en bonus jag hoppas att många fick ta del av, sympatisk och trevlig och jag hoppas att vi får se hans öl i Sverige i v/-år… Likaså är Firestone Walker likställt med otroligt hög klass och allt från Pale 31 till Sucaba, Parabola och Double DBA var inget annat än toppklass. Att Matt Brynildson själv stod och hällde upp ölen och verkligen tog sig tid att snacka om ölen, om bryggeriet, om deras nya lagringsprojekt och om öl i allmänhet visar hur passionerade deltagande bryggerier är.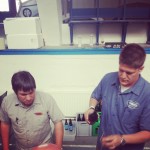 Här låg kanske det enda stora minuset jämfört med i fjol. I fjol var det mer snack och mindre verkstad, bryggarna kunde lättare hälla upp ölen och snacka lite med ölfanstaterna som på grund utav att  ölen kostade behövde begränsa sig något. Nu när det var "free samples" så sprang de flesta, jag inräknad runt och ville prova allt det goda som fanns. Wayne Wambles på Cigar City som hur trevlig och snäll han än må vara fick därför mest fokusera på att hälla upp öl än att snacka om dem, lite synd. Sedan kanske det är bättre i längden än att hantera poletter likt i fjol men jag skulle nog velat ha något mellanting just så att det blev mer socialt även för bryggarna.
Ser vi istället framåt så hoppas jag verkligen att CBC återkommer nästa år, det här behövs för den europeiska ölscenen och många bryggare fick nya kontakter både med andra bryggare men också med importörer och andra, vilket kanske underlättar framtida import.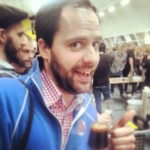 Det jag hoppas är att CBC då får ett management som kan hantera den press och den stress det är, vare sig Irina 2012 eller Ivan 2013 hade riktigt tiden att tänka på varje tänkbart scenario – men så är det inget heltidsjobb heller och ingen har riktigt tiden att göra riskanalyser eller se till så att ölen faktiskt levereras i tid. Där kan man ta hjälp av andra, likt vad vi erbjöd oss i form av införrapporter och annat. Jag tror och hoppas att CBC kan växa och bli bättre för varje år, men då måste man mötas och försöka ta till sig från alla håll och kanter – och här vet jag att kritiska röster hördes innan CBC. Nu ska vi däremot vara positiva. Maten var topp (allt från korvarna till den fantastiska chilin och den fina risotton och fiskkakorna), ölen behöver vi knappt nämna, vädret var bokstavligen strålande (trots att jag hade velat sitta ute i solen likt i fjol) och nu finns inget mer att kommentera på – CBC, tack för i år!