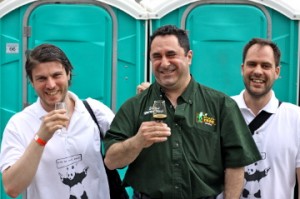 Those who attended Copenhagen Beer Celebration last year might have seen a short, extremely happy fellow jumping around and talking to everyone who asked for a beer. The man was the charismatic founder of Hoppin Frog, Fred Karm. This fellow seemed to love the celebration and while blending improvised black & tans one second the next he could be filming silly movies with us from MankerBeer. We and so many with us loved Fred's passion and based on his actions it looked like he was loving it as well. This year Hoppin Frog is coming back, although without Fred. That doesn't change the fact that some great brews will be served from the highly ranked brewery (17th place on RateBeer's ranking of the worlds 100 best breweries). Even though Fred is not coming to Copenhagen he is such a nice fellow that we couldn't miss the opportunity for a quick interview.
MankerBeer (MB): Fred, tell us about yourself and Hoppin Frog, are you really the Hoppin Frog just like you told us last year at CBC?
Fred Karm (FK): Yes, I am Hoppin' Frog. My name is Fred, so my nickname is Frog. About myself – I am in the quest for the perfect pint. Its an idealistic quest, that raises my expectations as new ones are found. So, the quest will go on forever…..
MB: Hoppin Frog was founded in 2006 and is not only rated 17th best brewery in the world by Rate Beer but has several award winning beers – what is your inspiration?
FK: I am inspired by the best brewers and breweries in the world. Half the time its from a traditional style, but the other half is designing new approaches to brewing to create non-stylistic beers.
MB: You, together with your wife were among the most popular and friendly brewers at CBC last year. Always with a smile and time to chat about just about anything, what are your favorite memories from last year?
FK: I think its obvious that we like to talk to people – and that is the best memory of the past CBC – the people, and how friendly THEY were. We couldn't be more at home!
MB: And following that, what do you look forward to the most with CBC 2013?
FK: We were SO looking forward to the CBC this year. But, my Operations Manager will attend in our place!! Because, this year, we are building a nice tasting room connected to our brewery! It will be complete with 24 taps, a rare beer list, 60 seats, a small kitchen, and a stage with a killer sound system! So, we rally hope to do it next year – we will be there!!
MB: I saw that a new frog was released – Gangster Frog, any other new beers or plans for the future?
FK: New beers?!! – Hell Yeah!! That's one of my favorite things – conceiving a new beer – its like having a child – my beers are my children, in a way. I conceive of them, raise them up right, teach them how to be right, and send them on their way in the world, to hopefully make a good name for themselves.
MB: Despite being a long fan of Hoppin Frog I must confess that Turbo Shandy did not work at all for me, do you have any of the beers that you yourself aren't too satisfied with?
FK: Are you kidding me?! If I was not satisfied, or too satisfied with one of my beers, I would not make it. Simple. I'm not anybody's lacky! I make what I want. That is what has made us successful. Like the Turbo Shandy Citrus Ale that I make. A lot of time and research has gone into that. It is designed around the desires and comments of my friends and family. When the heat of summer hits, I don't drink quite as much beer. But I do drink some, for sure. That's when I like the thirst-quenching qualities of a good IPA, with all their citrus characters. That's when I realized that I would like the Shandy style of beer/lemonade. But none were good enough. I always dreamed of one that could satisfy my strong desire for a natural, strong citrus character, balanced with a good, bready, light-malt beer without any other bitterness. Like Hard Lemonade. That's exactly what we designed. It is NOT popular with the beer raters. Not a problem at all! But Turbo Shandy is SO popular with the majority of my customers that my state of Ohio has doubled its order from last year, making that my biggest single order for one beer, ever! Most of my other distributors are very unhappy about this, but I don't want to just make Turbo Shandy the rest of the summer!! We have many, many other beers to make!! Ones that beer raters and general beer lovers together will all like. That's better, for most of the time!!
MB: Last year, during your trips in Europe you made several collaborations (with Amager and De Molen to mention two) can we expect more Frog collaborations in the future?
FK: Yes, more Frog collaborations will come…… It is a blast to brew with other brewers – I always learn something – never stop learning!!
MB: Later this year beer fans will be able to visit the Hoppin Frog Tasting Room and a Hoppin Frog Bar – when did you decide that it was time for this expansion and how is it going with the construction?
FK: I decided it was a great idea to start a tasting room when I visited Europe last year, starting at the CBC. It was refreshing to go into European pubs, and see how they are designed. I've been studying bars and breweries for a long time, and they are different in Europe. Often, I found that they promote meeting other customers, by not having distractions like TV's. Much different than US bars. So, I want that! I want to bring that feel to my tasting room. I want my friends and family to experience that at my pad.
MB: We did the occult pairing with one of my favorite Hoppin Frog beers Goose Juice and fried frog legs (great combo!) – got any pairings to suggest?
FK: I love beer and food pairings. Goose Juice or other IPAs are good with sharp cheeses, like cheddar or some blue cheeses. I like those pairings. But I LOVE a BORIS Stout milkshake, made 50/50 with chocolate ice cream, put in a blender and blended together – the ultimate adult dessert.
MB: When will we see you for a beer maker's dinner in Stockholm, Sweden?
FK: Dinner in Stockholm?!! Sounds like big fun!! We'll have to work on that! My wife is Swedish, so we are in for that!! We will have to work on that.
MB: What should beer fans really not miss at Copenhagen Beer Celebration?
FK: What not to miss at the CBC? I am not sure. I don't know all that's going on. With our beers it is hard to tell I guess, because there'll be some different Hoppin' Frog kegs for each night.
Thank you Fred, we will miss you at CBC! Lets look to the beers he is bringing, the full list of beers at CBC can be found here and just like with Hoppin Frog's beers changes may occur.
Hoppin Frog CBC Beer List:
BORIS the Crusher
B.A BORIS The Crusher
Hopped-Up Goose Juice Rye IPA
DORIS The Destroyer
B.A Frog's Hollow
Cafe Silk Porter
Hop Heathen Imperial Black Ale
Hoppin to Heaven IPA
Karminator Imperial Doublebock