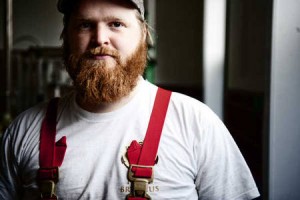 Siren Craft Brew är ett namn som fler nog har snappat och lärt sig sedan det stod klart att vinnaren i Omnipollos hembryggartävling skall dit och brygga öl. Färre har nog provat de öl som Ryan Witter-Merithew bryggt på Siren. Ryan jobbade tidigare på Fanø Brygghus i Danmark, Duck Rabbit i USA och på numera nästan mytomspunna Grassroots, som han drev tillsammans med Shaun Hill – numera mannen bakom världens bästa bryggeri 2013 – Hill Farmstead. Ryan bestämde sig dock för att flytta ifrån Danmark och ta steget till att tillsammans med Darron Anley brygga öl i England. Ölen kunde avnjutas tidigare i år på Copenhagen Beer Celebration och kommer från och med nu att distribueras i Sverige utav Brill & Co.
För att fira nytillskottet i ölportföljen så har Brill & Co en releasefest nästa tisdag, den 13e på Bishops Arms Folkungagatan där man från klockan 18 kan smaka nedanstående öl:
Siren Undercurrent 4,5% – En session American Pale ale humlad med Cascade och Palisadehumle.
Siren Sweet Dream 5,3% – En komplex milk stout med massor av choklad och vanilj för att framhäva chokladtonerna i malten.
Siren Sound Wave 5,6% – En torr West Coast IPA på endast 5,6% men fullpackad med humle som ger toner av grapefrukt, persika och mango.
Siren Liquid Mistress 5,7% – En West Coast Red IPA där maltkroppen balanserar citrustonerna från humle.
Siren Broken Dream 6,7% – En havre stout på med en förförisk touch av kaffe, choklad och rök i doft och smak.
Siren Limoncello IPA 9,0% – Första gången den brygdes var det när Ryan drev Grassroots och är en sambrygd med Mikkeller där man ville skapa en hybrid av limoncello och IPA genom att låta basmalten (vete och pale ale malt) genom gå en surningsprocess i 24 timmar och sen använda rejäla mängder humle och citronzest.
Vi tog så klart och använde djungeltelegrafen för att se vad Ryan själv har att säga om Siren Craft Brew och att ölen nu finns tillgänglig i Sverige.
MankerBeer (MB): Why did you decide it was time to leave Denmark and set up shop in the UK?
Ryan Witter-Merithew (RWM): We had been in Denmark for almost 3 years and it just felt time. I had done a lot at Fano and I was pretty proud of what we did there but at the same time it would never feel like MY brewery or anything like that. I wanted to be apart of something from the start so I could guide it completely.
MB: What do you want to create with Siren Craft Brew?
RWM: With Siren Darron and I wanted to start a brewery making the types of beers we enjoyed. These happen to be hop forward american styles of beers. We felt like with our combined experience we could have success brewing these styles and aim to grow to be one of the larger craft breweries in the UK. So far the response has been very good to the beers we are putting out.
MB: How will it differ from your previous experiences from Fanö, Grassroots and Duck Rabbit?
RWM: I think the main difference here vs with Fano and grassroots will be a chance to brew some of these beers more then once. A lot of times when I created a beer at Fano I made it 1 time and never made it again. That didn't leave me the chance to try and tweak recipes or anything like that. Now I will for sure brew some beers here that will be one offs but in my attempt to keep moving forward as a brewer I hope that here I can really work on perfected some of my beers until I find them flawless.
MB: Any favorite Siren Craft Brew beer so far?
RWM: I have been very happy with all the beers we put out so far as each has really been my fav at some point or another. For me my fav beer is often one I have yet to make and I am looking forward to experimenting and trying out some new things here in an attempt to find it.
We thank Ryan for taking the time to answer some quickies and hope to see as many thirsty beer lovers as possible at Bishops Arms!