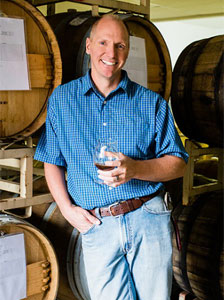 When MankerBeer went to Denver in 2011 we took some time off up in Fort Collins to meet with Bryan Simpson from New Belgium Brewing Company. Bryan led us round Fort Collins to visit some breweries we knew of and some that were totally new – like Funkwerks. Back in 2011 Funkwerks had recently opened an at the time they were housing another brewery that were to make a name of itself – Crooked Stave. Already during their first few years they have won several medals for their beers and been part of what I like to call the new US Belgian brewery tradition, breweries in the states that focus only on Belgian beer styles – and who does it good. When I got hooked on the craft beer thing about five years old most US Belgian inspired beers tasted like weak copies with little or no similarity of Belgian beers. Much have happened and more and more breweries start up, and eventually pass the Belgian breweries that used to be the forefront runners when it comes to certain beer styles. As we are now going back to Denver for 2013 Great American Beer Festival we plan to take the same trip north to Fort Collins and hopefully sit down in Funkwerks neat little brew pub to enjoy some beers and their tasty cheese platter. Thus it is only natural for us to ask Gordon Schuck, the one half of the team that started the brewery to see what has happened since we last visited.
MankerBeer (MB): The Funkwerks public opening party was held on February 1 (which happens to be my birthday) 2011 – But the Funkwerks story started earlier than that, how did your brewing career start and how come it led to the birth of Funkwerks?
Gordon Schuck (GS): I started homebrewing in 2003 and immediately fell in love with Belgian beer in general and Saison in particular. I also began competing in homebrew competitions to get feedback on my beer and immediately started winning medals. Ultimately, in 2007 I won the gold medal at the National Homebrew Competition with a Saison. This was the turning point when I decided to pursue professional brewing and open a brewery. I met my future business partner, Brad Lincoln, at Siebel Institute where we were both studying Brewing Technology. When we decided to open a brewery together it was only natural to focus on Saison.
MB: We visited the brewery in the fall of 2011 and had a great time sampling beers and cheese, what has happened since then?
GS: In 2011 at the Great American Beer Festival we won a silver medal for our Saison. This was a big honor because it is the largest beer competition in the United States and attracts the top breweries in the country. Last year the pressure was on to prove that 2011 wasn't a fluke. Well, we won the Gold Medal for our Saison and a Gold Medal for Deceit, our Belgian Golden Strong, and title of 2012 GABF Small Brewery of the Year. Needless to say, we were ecstatic. Since then things have exploded. We have expanded distribution in three states and are currently planning an expansion that will double our production in early 2014.
MB: This will be your fourth year at Great American Beer Festival, has the possibility to attend the festival helped you and other "younger" breweries to introduce yourself to a wider audience?
GS: GABF is great for small up and coming breweries because it really is a level playing field for all breweries. The focus for the attendees is about quality of beer and not quantity of production.

MB: More American breweries seems to be focusing on all-Belgian beer styles, what is key to brew high class Belgian beers?
GS: Belgian beers are unique. In no other brewing country are the styles seen as guidelines rather than rules and as such there is quite a bit of overlap. As a brewer, I love the ability to be creative and brew my beer rather than adhere to strict rules. Also, Belgian beers are at once complex and flavorful, yet balanced. This is what separates the great Belgian beers. Have a vision of what you want the beer to be, use a wide pallet of ingredients, layer flavors that complement each other, strike a harmonious balance, and ensure a dry finish.
MB: The number of US craft beer breweries has now reached it's highest number ever, what is the most important lessons for all up-and-comers to be able to establish themself on the American craft beer scene?
GS: My advice to new breweries is to get as much experience and knowledge as you can, have a solid business plan, concentrate on a niche, and always strive for higher quality. Having deep pockets doesn't hurt either.
MB: I remember that when biking around in Fort Collins there seemed to be an endless interest in craft beer, why do you think so many great breweries have found their home in Fort Collins?
GS: I think it's a matter of culture. Odell Brewing Company and New Belgium Brewing Company are the pioneers of the brewing industry and have created a culture of appreciation for craft beer in Fort Collins. The fruits of their labor has created a new generation of breweries. I don't think we could have been as successful carving out a niche like ours anywhere else. That and the water. We have great water.
MB: What or who has been the most important inspiration for you and Funkwerks?
GS: There have been many but if I have to pick one it would be Pierre Celis and Celis White beer. That beer changed the way I thought about beer and ultimately led to where I am today.
MB: Earlier this year you brewed a collaboration with Bill Beymer of Odell Brewing Company and Peter Bouchaert of New Belgium Brewing Company (Fort Collins Collaboration 2013), do you have any dream collaborator/-s that you would love to brew with?
GS: Of American Breweries, I'd love to collaborate with Vinnie Cilurzo (Russian River Brewing Company), Tomme Arthur (Lost Abbey), or Steven Pauwels (Boulevard Brewing Company). Also, any of the Saison brewers in Belgium. That would be a dream come true for me.
MB: What will happen in Fort Collins during GABF, any bar/brewery events that you would recommend?
GS: GABF week is very busy in Fort Collins. Every brewery in town has brewery tours and the beer bars have special events so you can't go wrong anywhere. If you can only do one, Mayor of Old Town does a tap takeover of all Northern Colorado breweries so it's a great place to try a wide variety of what our region has to offer.
MB: For all GABF-debutants, what should one think about and/or not miss at GABF?
GS: Do some research and have a game plan for GABF. There are a lot of beers there you may not have a chance to try again so do your homework. Pace yourself and don't forget to drink plenty of water.
MB: Could we get an idea of what cool brews will be poured at GABF?
GS: We will have our medal winning Saison, Tropic King Imperial Saison, Deceit Golden Strong, our White beer, and a Quadruple we've been working on.