MankerBeer storsatsar inför årets Stockholm Beer and Whisky Festival. Inte bara kommer vi försöka att finna nya sätt att rapportera från själva mässan utan vi kommer också att satsa på mer "inför"-material. En del i detta kommer att vara intervjuer med olika bryggare och utställare på mässan så att ni får en chans att lära känna dem lite bättre. Vi tycker att det är minst lika roligt, och viktigt, att känna till personerna bakom ölen som att prova dem. Om inte annat så kan det ge svar på varför vissa öl smaker som de gör, varifrån inspirationen kommer och vad som är på gång eller har skett.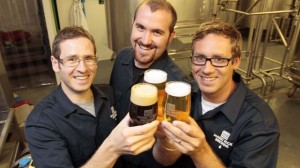 Ett bryggeri som för många kom från ingenstans men som snabbt tog Stockholms ölfantaster med storm är brittiska Magic Rock Brewing. För närvarande är det bara Oliver Twist i Stockholm som kan stoltsera med bryggeriet som är ett av de mest lovande på den brittiska ölscenen men jag hoppas att övriga Stockholm och sedan också landet ska få ta del av deras öl. Jag tog ett snack med Richard Burhouse som tillsammans med sin bror Jonathan grundade bryggeriet i början av förra året. Till sin hjälp tog dem bryggaren Stuart Ross och idag gör man inte mycket öl (de startade med bara två jästankar som ständigt står och puttrar) men sakteligen är de på väg att bli större och större. De kommer alla, tillsammans med SKA Brewing Company, att dyka upp både på mässan och på Oliver Twist på ett event onsdagen 3'e oktober. Som tidigare har vi alla icke-svenska intervjuer på engelska vilket jag hoppas att ni tycker är okey.
MB: For most Swedes Magic Rock is a new acquaintance, shortly, how would you present the brewery and the beers?
RB: We're an english brewery producing uncompromising beers for a new wave of discerning drinkers. We enjoy aroma filled flavour forward beers which use new world hops and are inspired largely by the US Craft brewing industry.
MB: Magic Rock is still a very young brewery, what has been the challanges so far and how has the beers been received in England (and elsewhere)?
RB: Setting up the brewery was a challenge in many ways, but we were very fortunate to have certain things on our side. Myself and head brewer Stuart were both using social media for a few years in our previous jobs and were well known to people in the beer industry (bars & other breweries) which meant we had a demand for the beers before we had even brewed the first batches. The beers from the beginning have been received fantastically well, maybe more so in the bigger cities but increasingly locally. We were delighted to be voted 2nd best new brewery in the world 2012 on RateBeer.com after only 6 months production.
MB: Some would say that the UK craft beer scene has been overshadowed by the American, what is the status on craft beer in the UK?
RB: The US definitely has the most vibrant brewing industry in the world at the moment, and it was a desire to replicate the recipes and freshness of that beer that inspired ourselves and others such as Kernel brewery in London to start up. Its come full circle in that many US craft breweries were originally inspired by UK styles and recipes.
MB: What can all Magic Rock look forward to, any new beers, plans or events in the pipeline?
RB: We have have lots of exciting things in the pipeline, including collaborations both at home and abroad. We are also very excited about our barrel aging programme which we are growing year on year and we also expect to start regular albeit small scale bottle production shortly.
MB: If you would pair a couple of Magick Rock beers with food, what would you pair with what?
RB: We have only done a couple of food events so far but Venison went really well with Rapture and would probably suit our new red IPA 'The Big Top'. We also really enjoyed Bearded Lady Imperial Stout poured over Espresso Ice Cream with Black Treacle Parkin.
MB: Last question, what do you look the most forward to with this years Stockholm Beer and Whisky Festival?
RB: We're really looking forward to seeing the festival itself and socialising with other brewers and drinkers. We're also excited about the prospect of our beer being represented at such a prestigious event, we really hope its popular with the attendees!
We thank Richard for his time and recomend you all to try their beers during the festival, their Cannonball has been a huge success at Oliver Twist and is one of the most session friendly ales I've had this year. Dont miss out on the oportunity to meet them at Oliver Twist, will be a great evening!
Tidigare inlägg i Manker Beer Meets – Inför SBWF 2012:
Manker Beer Meets – Inför SBWF 2012 – Marianne Wallberg / Mässgeneral
Manker Beer Meets – Inför SBWF 2012 – Shane Welch / Sixpoint Craft Ales
Manker Beer Meets – Inför SBWF 2012 – Thomas Hoelgaard / Xbeeriment
Manker Beer Meets – Inför SBWF 2012 – Anders Slotte / Slottskällan