MankerBeer storsatsar inför årets Stockholm Beer and Whisky Festival. Inte bara kommer vi försöka att finna nya sätt att rapportera från själva mässan utan vi kommer också att satsa på mer "inför"-material. En del i detta kommer att vara intervjuer med olika bryggare och utställare på mässan så att ni får en chans att lära känna dem lite bättre. Vi tycker att det är minst lika roligt, och viktigt, att känna till personerna bakom ölen som att prova dem. Om inte annat så kan det ge svar på varför vissa öl smaker som de gör, varifrån inspirationen kommer och vad som är på gång eller har skett.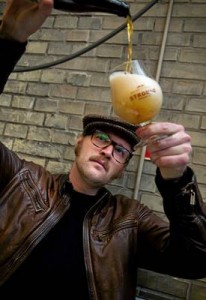 Ett av fjolårets diskussionsämnen Brutal Brewing lämnade nog få oberörda. Med en aggresiv marknadsföring och öl som många inte tyckte gjorde skäl för vare sig namnen eller informationen på etiketterna så blev det en het potatis. Lika het potatis var Stronzos framfart nere i Danmark. Där bryggaren Kristian Strunge och telefonsällskapet Onfones grundare, brodern, Morten Strunge tog över Amagers Bryghus gamla bryggverk och började brygga öl utifrån samma kaxiga marknadsföring som BrewDog, Brutal Brewing m.fl. Ölen togs emot med viss skepticism och många danska bryggare valde att gå ut och kritisera dem som ett mediaprojekt snarare än gediget bryggeri. Med andra ord är det Kristian Strunge på Stronzo vi måste fråga om dem, deras öl, kritiken och vad man inte får missa på mässan.
MB: Stronzo is still in its first year of business, what was you experience of brewing beer before that?
KS: I started homebrewing 5 years ago with one of my best friends. Who by the way is now our head brewer. We brewed many different kind of beers, but eventually ended up brewing mainly american and belgian inspired beers – the same type of beers that Stronzo brews today. What i lack in brewing education, i hopefully make up for with a huge passion for beer and a creative nature.
MB: For a while there was a lot of criticism of Stronzo and your beers did you ever experience that and has it seemed to change now when you have had more time to show people what it is all about?
KS: It is true that not everybody is happy about Stronzo. I don't think any other new danish micro brewery has recieved as much positive or negative feedback as we have. Most of the critique is about Stronzo being to commercial and arrogant.
To me beer is about passion, a brewery on the other hand is a business. In my mind, if you want to be succesful you need both a huge passion for beer and great business sence.
I could understand the citique if Stronzo branded itself as kick ass microbrewery and then continued on to brew yellow fizzy lager in a pretty package. However that is not the case. Apart from White Stronzo which is belgian inspired, our supermarket beers are hoppy american inspired beers. We are bringing more hop aroma and IBU's to the supermarket shelves – Unless you dont like hops, then I have difficulty in understanding the issue with that. We also brew some kick-ass specialty beers, they are the same beers that I have been brewing for the last five years in my kitchen, and those are the kind of beers I like.
But to answer your question, people definately change their oppinion about us when they taste the beers. To me the interesting part is that the people who critisize doesnt appear to have tasted our beers.
MB: Your motto is "Beer with an attitude", is there a risk that the beer gets too experimental that you might lose some of the "normal" beer drinkers? Or how do you find a balance?
KS: That is deffinately a risk, and of course I have the consumer in mind when designing beers for the supermarket. Those beer are definately designed to have some degree of drinkability – but then again, you can't make everybody happy.
If I have the average consumer in mind when designing the recipe for an Imperial Stout, IPA og sour fruit beer then I'm compromising the beer – It will not be what I set out to brew, and Stronzo will not be the kind of brewery that I set out to create. So far we have gotten very good feedback on all our beers, and especially the specialty beers. When you take into account that we are starting to see a really interesting development in our Export, then I am more than confident that we should keep brewing "beer with an attitude". I want our beers to be an experience, I also want them to be good, but if nothing less then i want my customers to expect an experience when drinking a Stronzo.
MB: If you would pair a couple of your beers with food, what beers would be paired to what food?
KS: Our X-mas beer "Golden Santa" is a Saison brewed with orange peel, Coriander and a lot of American and New Zealand hops. The beer was designed especially with the danish x-mas food in mind, and acompagnies roast pork and duck very well because of it's dryness and bitterness. I can also recommend glazing any kind of pork in 1000 EBC, honey and chili on the barbecue. Last but not least it is quite intereseting to blend 1/3 dry cava with 2/3 1000 EBC – the sourness from the cava goes really well with the sweetness from the beer, and it has enough body take that kind of treatment.
MB: From the beers that will be brought to the festival, which one would you recommend the visitors to start/end with?
KS: I hate having to pick between my beers, so I will recommend you taste all of our beers. But if you force me then i'll give it a go. Start with "Proud Stronzo" it is an american inspired Blonde Ale dryhopped with citra, chinook and centennial, at 4,6% it is very refreshing with a dry bitter finish. You should definately end with "1000 EBC", which is a 14 % Imperial Stout and theoretically the worlds darkest beer. We brew the beer with 600kg og malts for 400 liters of beer, mashing the beer 4 times – it takes between 21 and 23 hours to brew it, which is approximately 3 times as long as a normal beer. In short… dont miss it!
MB: So, finally. What do you look forward to the most with SBWF?
KS: The beer and the people! I really look forward to bartending, talking to the customers and getting feedback on our beers. Also i look forward to meeting a lot of brewers – the people in this business are the best!
Vi tackar Kristian för att han svarade väldigt öppet och bra på våra frågor och det ska bli intressant att svänga förbi Elixir Wines monter och pröva deras öl igen. Det verkar som sagt att det har gått framåt och att kvalitén har blivit bättre och bättre.
Tidigare inlägg i Manker Beer Meets – Inför SBWF 2012:
Manker Beer Meets – Inför SBWF 2012 – Marianne Wallberg / Mässgeneral
Manker Beer Meets – Inför SBWF 2012 – Shane Welch / Sixpoint Craft Ales
Manker Beer Meets – Inför SBWF 2012 – Thomas Hoelgaard / Xbeeriment
Manker Beer Meets – Inför SBWF 2012 – Anders Slotte / Slottskällan
Manker Beer Meets – Inför SBWF 2012 – Richard Burhouse/ Magic Rock Brewing
Manker Beer Meets – Inför SBWF 2012 – Sören Wagner / Croocked Moon
Manker Beer Meets – Inför SBWF 2012 – Anders Olsson / Eskilstuna Ölkultur
Manker Beer Meets – Inför SBWF 2012 – Tomas Danko / Vice Huvuddomare
Manker Beer Meets – Inför SBWF 2012 – Henok Fentie / Omnipollo