MankerBeer storsatsar inför årets Stockholm Beer and Whisky Festival. Inte bara kommer vi försöka att finna nya sätt att rapportera från själva mässan utan vi kommer också att satsa på mer "inför"-material. En del i detta kommer att vara intervjuer med olika bryggare och utställare på mässan så att ni får en chans att lära känna dem lite bättre. Vi tycker att det är minst lika roligt, och viktigt, att känna till personerna bakom ölen som att prova dem. Om inte annat så kan det ge svar på varför vissa öl smaker som de gör, varifrån inspirationen kommer och vad som är på gång eller har skett.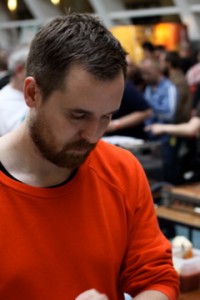 En av fjoårens mest imponerande bryggare, Mikkel Borg Bjergsø a.k.a. Mikkeller har tagit ölvärlden med storm och försett Sverige (och resten av ölvärlden) med flera nyskapande och  högkvalitativa öl i en takt som sällan har skådats. När vi mötte han för en pratstund under fjolårets SBWF så beskrev han sin syn på öl och gick in på drivkraften bakom Mikkeller, något vi har sett mer konkret genom alla de öl han har släppt under året samt det hyllade och snart återkommande Copenhagen Beer Celebration.
Tyvärr krockar SBWF med andra planer varpå Mikkel själv inte kommer att närvara på mässan, men flertalet av hans öl kommer att finnas hos Brill & Co och vi har därför valt att ta en väldigt kort stund med honom för att pejla läget.
MB: CBC was a great success, how important do you believe it to be for some of the worlds best brewers to be able to interact and enjoy such a festival with the beer drinkers but even more so with each other?
MBB: Very important. In general there are too few events that think international and get brewers from all over the world together. CBC will lead the way. hopefully.
MB: You keep on releasing beers in a pace that many would only dream of; almost all have been equally well received. Do you ever get tired of coming up with new recipes or new things to try?
MBB: Nope, aint that the fun part of beer making?
MB: Your Hop Series is involved in a project which examine how hops develop and age. How is that project going?
MBB: Going well, but its a PhD project, so it takes years to finish.
MB: What is in store for the future, what do we have to look forward to?
MBB: A lot of things, but we cannot reveal that at the moment.
MB: For someone whose driving force is to learn more about beer and brewing; how do you see the future of the Scandinavian beer scene, what will see more, and less, of?
MBB: Hopefully more brewers not compromising and less brewers doinf what everyone else is doing.
MB: So, final question. What do you look forward to the most with this years SBWF?
MBB: American Dream winning a gold again 😉
Vi tackar Mikkel för att han tog sig tid att svara på våra frågor och råder er alla att prova hans surölsserie (Spotan..) samt några av de specialare som säkerligen lär dukas upp i montern.
Tidigare inlägg i Manker Beer Meets – Inför SBWF 2012:
Manker Beer Meets – Inför SBWF 2012 – Marianne Wallberg / Mässgeneral
Manker Beer Meets – Inför SBWF 2012 – Shane Welch / Sixpoint Craft Ales
Manker Beer Meets – Inför SBWF 2012 – Thomas Hoelgaard / Xbeeriment
Manker Beer Meets – Inför SBWF 2012 – Anders Slotte / Slottskällan
Manker Beer Meets – Inför SBWF 2012 – Richard Burhouse/ Magic Rock Brewing
Manker Beer Meets – Inför SBWF 2012 – Sören Wagner / Croocked Moon
Manker Beer Meets – Inför SBWF 2012 – Anders Olsson / Eskilstuna Ölkultur
Manker Beer Meets – Inför SBWF 2012 – Tomas Danko / Vice Huvuddomare
Manker Beer Meets – Inför SBWF 2012 – Henok Fentie / Omnipollo
Manker Beer Meets – Inför SBWF 2012 – Kristian Strunge / Stronzo
Manker Beer Meets – Inför SBWF 2012 – Jessica Heidrich / S:t Eriks
Manker Beer Meets – Inför SBWF 2012 – Mike Murphy / Lervig Aktiebryggeri