MankerBeer storsatsar inför årets Stockholm Beer and Whisky Festival. Inte bara kommer vi försöka att finna nya sätt att rapportera från själva mässan utan vi kommer också att satsa på mer "inför"-material. En del i detta kommer att vara intervjuer med olika bryggare och utställare på mässan så att ni får en chans att lära känna dem lite bättre. Vi tycker att det är minst lika roligt, och viktigt, att känna till personerna bakom ölen som att prova dem. Om inte annat så kan det ge svar på varför vissa öl smaker som de gör, varifrån inspirationen kommer och vad som är på gång eller har skett.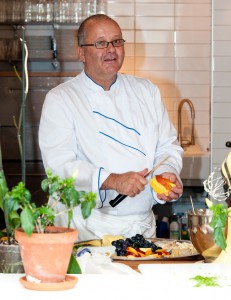 I skåne öppnade tidigare i år South Plains Brewing Company vars APA (recension) nu kan återfinnas på fler och fler ställen framförallt i Skåne men snart också direkt genom Systembolaget. Mannen bakom bryggeriet, amerikanen Jeffrey Brown arbetar till vardags som kock och då vi inte riktigt har fått reda så mycket om vem han är och vad planen med bryggeriet är så ville vi såklart lära oss mer. Jeffrey kommer att komma till Stockholm Beer, varpå han blir en av årets mässnykomlingar, och kommer då att stå tillsammans med Elixir Wines.
MB: South Plains Brewing Co. recently hit the Swedish market and Systembolaget, could you shortly introduce yourself and the brewery.
JB: My name is Jeffrey Scott Brown, I'm from San Francisco, living in Sweden 10 years now. I have a Danish wife Sacha I met when I lived in Paris, and we now have four children. I'm a professional Chef, with a Masters degree in French cuisine and French pastry, and a artisan craft brewer for over 20 years. About two years ago, after so many people had loved tasting my beer, the owner of Fridhem Gaard in Vellinge convinced me and I decided to make it a goal to open a micro-brewery. I then started something called 'The South Plains Project', that I blogged about the trials and tribulations of starting a micro-brewery. We took the name South Plains from the local area 'söderslätt' and now after two years I'm finally open for business. I bought used brewing equipment from Munich, some of it 30 years old..a 1200 liter kettle powered by a Italian steam generator, 1200 liter dairy agitator vessel to be used as a mash-tun, along with 3-900 liter fermenting tanks. I bought a 17 year old Meheen bottling machine, fills up to 1400 bottles/hour and am currently in negotiations for a 25 year old pressure sensitive in line labeler. I rented a small workshop in Norra Grangebergsgatan in Malmö, a very vibrant & ethnic area, my workshop is a old sausage factory geared for food production.
MB: What direction do you want the brewery to take, what is the long term plan for it and the beers that you wish to brew?
JB: I would hope that I can produce full flavored beers, some very bitter & strong, some very hoppy, like we drink in California. I would hope to have a interesting selection with different styles & big tastes. When I came to Sweden in 2002, I was disappointed with the beers here, they were all the same, a sort of bland lager, not tasting much of anything. Also I had always been a big fan of English & German beers and I could find very little. In San Francisco we have German restaurants with 30 German beers on tap, and I was surprised being next to Germany, there was nothing available. I think the micro- brewery industry in Sweden is just taking off now, like it did in Denmark 10 years ago, however most Swedish micro-breweries are still doing more English style ales, more traditional. The beers I do are more west coast American style, full bodied, very hoppy and/or bitter and often higher alcohol. The American imports, by the time they take four months to transport and in the belly of a ship, they are not so fresh anymore.
MB: With only one beer on the market, what would be the perfect food pairing for it?
JB: As a chef, it's my job to pair food and beverage and my first beer is quite moderate by west coast standards, the 'South Plains APA' is only 44 on the IBU scale so it could go with just about anything. It would be excellent with grilled meats, fish-shellfish, all sorts of vegetable dishes, cheese, bread, spicy, sweet, sour, salty, the whole range. Later, doing beers above 100 IBU, they will be more difficult to pair.
MB: Would you say that it is difficult to start up a brewery in Sweden and if so, is it for good or bad?
JB: I think starting a brewery in Sweden is not much more difficult than anywhere else, the alcohol & tobacco industries are probably the the highest regulated industry there are, the hard part is securing your capital if you don't have it. Systembolaget was a lot of bureaucracy but that was expected and it went faster than I expected.
MB: And final question, what do you look forward to the most with SBWF?
JB: At the SBWF I'm looking forward to meeting people, introducing a new vision of beer in Sweden, getting my name out, and letting people know that they can order very fresh, hoppy/bitter/malty, locally produced beer and have a unique tasting experience.
Thank you very much Jeff for answering our questions and I hope people take the opportunity to try the South Plains APA at the SBWF and to try something that hasn't been on the market for long. As with all recently started breweries it is always interesting to have followed them from their early ages and experience their growth; because who knows, one day they might be the great big thing.
Tidigare inlägg i Manker Beer Meets – Inför SBWF 2012:
Manker Beer Meets – Inför SBWF 2012 – Marianne Wallberg / Mässgeneral
Manker Beer Meets – Inför SBWF 2012 – Shane Welch / Sixpoint Craft Ales
Manker Beer Meets – Inför SBWF 2012 – Thomas Hoelgaard / Xbeeriment
Manker Beer Meets – Inför SBWF 2012 – Anders Slotte / Slottskällan
Manker Beer Meets – Inför SBWF 2012 – Richard Burhouse/ Magic Rock Brewing
Manker Beer Meets – Inför SBWF 2012 – Sören Wagner / Croocked Moon
Manker Beer Meets – Inför SBWF 2012 – Anders Olsson / Eskilstuna Ölkultur
Manker Beer Meets – Inför SBWF 2012 – Tomas Danko / Vice Huvuddomare
Manker Beer Meets – Inför SBWF 2012 – Henok Fentie / Omnipollo
Manker Beer Meets – Inför SBWF 2012 – Kristian Strunge / Stronzo
Manker Beer Meets – Inför SBWF 2012 – Jessica Heidrich / S:t Eriks
Manker Beer Meets – Inför SBWF 2012 – Mike Murphy / Lervig Aktiebryggeri
Manker Beer Meets – Inför SBWF 2012 – Mikkel Borg Bjergsö / Mikkeller
MankerBeer TV – Inför SBWF 2012 – Teaser 2012, vad är på väg?
Vinn biljetter till SBWF med de officiella Ölguiderna på MankerBeer
MankerBeer TV – Inför SBWF 2012 – The 2012 SBWF Boyband