MankerBeer storsatsar inför årets Stockholm Beer and Whisky Festival. Inte bara kommer vi försöka att finna nya sätt att rapportera från själva mässan utan vi kommer också att satsa på mer "inför"-material. En del i detta kommer att vara intervjuer med olika bryggare och utställare på mässan så att ni får en chans att lära känna dem lite bättre. Vi tycker att det är minst lika roligt, och viktigt, att känna till personerna bakom ölen som att prova dem. Om inte annat så kan det ge svar på varför vissa öl smaker som de gör, varifrån inspirationen kommer och vad som är på gång eller har skett.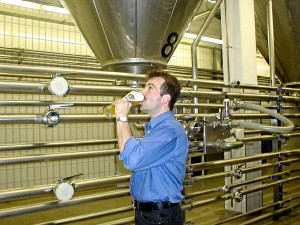 Så har vi kommit till slutet och sista dagen innan mässan drar igång. Imorgon börjar den två veckor långa ölfesten där vi kommer att få prova bra öl från världens alla hörn och möta bryggare från lika många håll. Idag är sista dagen i vår "Inför SBWF 2012"-artikelserie där vi har publiserat inte mindre än  19 olika intervjuer på 30 dagar vilket vi är rätt nöjda med. Sist ut är idag Frank Peifer från klassiska tyska bryggeriet Weihenstephan – världens äldsta bryggeri. Det är ett intressant bryggeri att sluta med då vi får höra lite om tysk ölkultur och hur framtiden för tysk öl ser ut, samt lite tips på bra öl- och matkombos.
MB: For such an old brewery, how tough has it been to both keep part of the brewery tradition as well as being able to modernize?
FP:  Although we can look back on a history of nearly 1000 years of brewing beer in Weihenstephan, modernization has always been a part of our daily business. As we have a close cooperation with the Technical University of Munich with its outpost in Weihenstephan, the only place where students from all over the world are able to get hold of a Diploma degree in brewing science, we are always aware of technical inventions regarding the processes of brewing. At Weihenstephan we combine both worlds, the historical and the modern one in a unique way.
MB: Germany is probably the country with the beer scene that is most bound by tradition, will we ever see more modern beer styles coming from Weihenstephan?
FP: It depends on the styles we are talking about – if you mean styles like Pale Ales or IPA's, then this is definitely something we have in our minds. We already released seasonal brews like our "Weihenstephaner Pale Ale", a Bavarian version of the Pale Ale-style which is brewed with a blend ofthesorts "Tradition" and the original local cultivars "Hersbrucker" and "Hallertauer Mittelfrüh". Our Pale Ale will be available at the Stockholm Beer & Whiskey Festival as well as a keg of another seasonal, our "White Hoplosion". It's an unfiltered Hefeweizen with an IBU of 52 bitter units. Join us for the Festival and get a sip of this special beer!
MB: I really liked Infinium, the collaboration beer made with Samuel Adams, how has the beer been received around the world and has it helped to show how reinheitsgebot didnt necessarily have to limit a beer?
FP:  Infinium was really a great experience for the brewery and especially for me as a brewer. The intention to unite the "new world of brewing" represented by Samuel Adams and the "old world of brewing" represented by Weihenstephan was a raving success. I think that both sides were able to learn a lot from each other during this 3 years the project took until the beer was finally realeased. Showing the beer world that you are able to brew such a unique beer with an alcohol content that high (10.5%) and still stick to the "Reinheitsgebot" is the best example that the Purity Law does not necessarily limit you in your creativity. I would even call it a special challenge to brew a great beer only using the four ingredients hops, malt, water and yeast.
MB: If you would prepare a 3-4 course meal with Weihenstephan beers, what beer would go with what food?
FP:  Let's emanate from a 4 course dinner and let us start off with some seafood as our starter, where I would suggest our Hefeweissbier Kristall (the filtered version of our Hefeweissbier). It goes well with seafood as it is crisp, light and clear with nice hints of banana and clove. As a second course I was thinking of steak tartare paired with our Original, a classic Bavarian Lager beer, that's also clear and light – perfect for Tartare. For the main course, a classic Bavarian crusted pork I would suggest our main seller, the Hefeweissbier – the cloudy wheat beer together with a crusted pork is a typical Bavarian combination of food and beer. The best beer for our dessert, a dark chocolate cake is our Korbinian, a Doppelbock at 7.4%. The nattily and chocolatey notes are the perfect partner for the cake. I hope you're hungry and THIRSTY now!
MB: Finally then, what do you look forward to the most with Stockholm Beer and Whisky Festival?
FP: There's a lot to do for me during the Festival and everybody who's interested in Weihenstephan is more than welcome to meet me during the first weekend, where I will participate. You can find me at the booth of our importer Galatea where I'll be available for questions at the "Brewers Corner" on Thursday and Friday, 27th and 28th of September from 16:00 to 17:00 each day. You can also join me for the "Master Class" I will give on Saturday the 29th starting at 13:00, where I will speak about our brewery, the history of beer in Germany and especially the history of wheat beer. I'm really looking forward to meeting new people, have interesting conversations about beer and brewing, possibly meet some international colleagues of myself and last but not least try some beers as well. So see you all at the Festival!
We thank Frank and thank all you readers for staying with us for all of these interviews which now has come to an end. Tomorrow is the start of the festival and we hope to see you all there! On Friday Frank will host a beer makers dinner at the Queens Head, more info here.
Tidigare inlägg i Manker Beer Meets – Inför SBWF 2012:
Manker Beer Meets – Inför SBWF 2012 – Marianne Wallberg / Mässgeneral
Manker Beer Meets – Inför SBWF 2012 – Shane Welch / Sixpoint Craft Ales
Manker Beer Meets – Inför SBWF 2012 – Thomas Hoelgaard / Xbeeriment
Manker Beer Meets – Inför SBWF 2012 – Anders Slotte / Slottskällan
Manker Beer Meets – Inför SBWF 2012 – Richard Burhouse/ Magic Rock Brewing
Manker Beer Meets – Inför SBWF 2012 – Sören Wagner / Croocked Moon
Manker Beer Meets – Inför SBWF 2012 – Anders Olsson / Eskilstuna Ölkultur
Manker Beer Meets – Inför SBWF 2012 – Tomas Danko / Vice Huvuddomare M
anker Beer Meets – Inför SBWF 2012 – Henok Fentie / Omnipollo
Manker Beer Meets – Inför SBWF 2012 – Kristian Strunge / Stronzo M
anker Beer Meets – Inför SBWF 2012 – Jessica Heidrich / S:t Eriks
Manker Beer Meets – Inför SBWF 2012 – Mike Murphy / Lervig Aktiebryggeri
Manker Beer Meets – Inför SBWF 2012 – Mikkel Borg Bjergsö / Mikkeller
MankerBeer TV – Inför SBWF 2012 – Teaser 2012, vad är på väg?
Vinn biljetter till SBWF med de officiella Ölguiderna på MankerBeer
MankerBeer TV – Inför SBWF 2012 – The 2012 SBWF Boyband
Manker Beer Meets – Inför SBWF 2012 – Jeffrey Brown / South Plains Brewing Co
Inför SBWF 2012 – Vilka vann biljetter?
Manker Beer Meets – Inför SBWF 2012 – Rune Lindgren / Bryggeriet Djævlebryg
Manker Beer Meets – Inför SBWF 2012 – Kees Bubberman / Brouwerij Emelisse
Inför SBWF 2012 – Vinn plats på en exklusiv provning med BrewDog & Boulevard Brewing
Manker Beer Meets – Inför SBWF 2012 – Andrew Baker / Summer Wine
Vilka får möta James Watt och Bob Sullivan på SBWF-provningen?
Manker Beer Meets – Inför SBWF 2012 – Stefan Gustavsson / Mohawk Brewing Company
M2s Corner – Inför SBWF 2012 – M2s "Must Haves" och "Nyfiken På"-listor